MC:
ASSORTED CHALLENGES v0.1
Category:
Minecraft PE Maps
Viewed:
839 -
Published at:
3 years ago
Description:
Ever dreamed of a map where lots of challenges and mini-games are in it? All the way from survival challenges, mini-games, puzzles, parkour courses, and a lot more while prioritizing survivality? Then stop dreaming because I'll be your fairy godfather! LOL! Assorted Challenges map is here and all of the challenges mentioned above are all in here (well, at least that's my vision for this map)! And there is a bonus: this map has a storyline! Interested? Read along.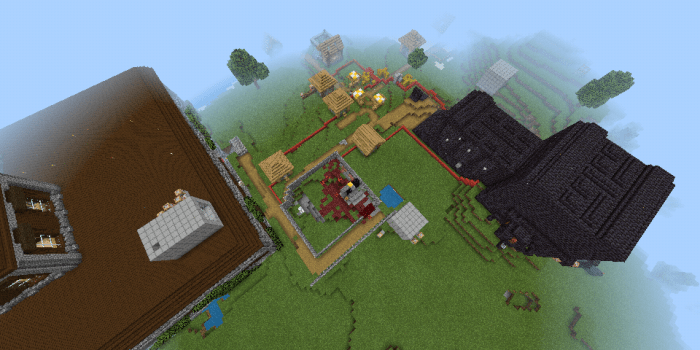 Assorted Challenges is a Minecraft map that is built for players who don't only want a map with a specific or single type of a challenge. This map is mixed and has all sorts of challenge you can ever think.
I also added a somewhat "save and load" feature where all items you obtain from a certain challenge can be brought into the next challenge you want to tackle. Your progress in this map is carried along as you complete a challenge after another.
What I'm even most proud of in this map is that all challenges exist for a reason. They are there based on this map's storyline. The storyline can somehow give players a sense of direction and motivation as to why would they desire beating a certain challenge.
You may be asking this so let me answer it right now: Yes! This map can be played solo or even multiplayer!
HOW TO PLAY:
Once you spawn, you'll find yourself in a room with three options:
1.) You can visit the Credits Room;
2.) You can read the map's storyline as well as a quick tour around the map;
3.) Or you may begin exploring the map!
If you hit the "Begin" button, you should be teleported into Terrai Village. This is where your adventure begins!
While exploring the village, you'll eventually find the entrance to the dungeon. But don't enter just yet! There are hidden loot in the village which you have to find before tackling any challenge. Once you find them, go ahead and march into the dungeon!
Now presenting the current features:
NOTE: THIS IS STILL THE FIRST RELEASE SO THERE IS CURRENTLY ONE CHALLENGE ACCESSIBLE TO PLAYERS. BUT I'M PLANNING TO ADD MORE!
★ v0.1 ★
Terrai Village
A portion of this village is accessible and this village shall provide you your first gear before entering any other challenge. If in multiplayer, sharing is caring XD!
Terraria Dungeon
Yes! All the way from Terraria. Brought into Minecraft. Here is one of Terraria's notable structures: the Dungeon! I tried to be as creative and detailed as possible when building this. Starting from the loot, enemies, and design should give players a Terraria vibe. As of this version, the only explorable areas in this structure are the entrance and boss room. Yep, Skeletron is here! In a form of a Ghast! The current way to prevent yourself from boring out in this map is by farming Skeletron. Discover how by talking to the Clothier.
Immersive Storyline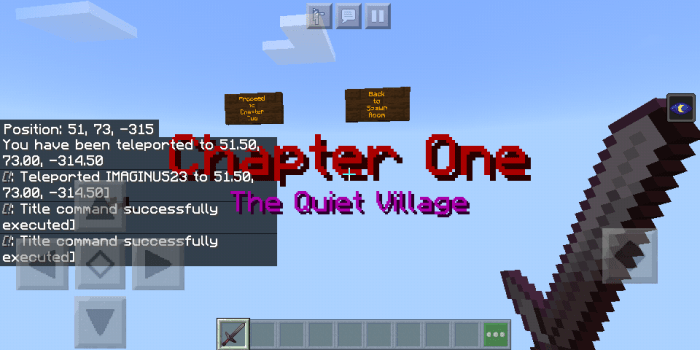 My greatest pride for this map is its original storyline. Terraria's dungeon is included in this map for a reason. And that is explained in the story.
The story is currently until Chapter Three. 
P.S. I'm planning not to use add-ons nor texture packs onto this map. So don't expect the real Skeletron appearing here. But that is for this version. If ever somebody wants it, I can create a Terraria version of this map where a Terraria add-on is installed on it. For now, there is no promises for that.
P.P.S. I built this map on Android. So I don't know wether this also works on iOS and Windows. Can someone please test it on those platforms and tell me it did? Hehe…
For suggestions, bug reports, and complaints, please comment all of those down below. Or you can get in touch with me on Facebook.
Facebook: Imaginus Learns To Write
If ever, and I mean IF EVER, somebody uploads a review or showcase video of this map, please GIVE CREDITS TO ME! Also, put a "#ACMapbyImaginus" on your video for me to easily find it. You may even earn a shoutout if you do just that.
One final thing, NO CLAIMING THIS MAP AS YOURS! If you commit that crime, I'll swear I'll put a curse on you! And you'll suffer the same fate as with the dungeon's old man! Wahahaha! (not really lol. Conscience and regret can do the job)
I hope you try this map and help me improve it 😀
Installation
After downloading the file, follow the instructions below:
1.) Tap/Click the file.
2.) Your Minecraft app should start importing the map. If it doesn't and an "Open With" option pops up, just choose Minecraft and tap "Always".
3.) The map will appear in your Minecraft worlds now. You may now embark on an amazingly fun adventure. Enjoy :D
DOWNLOAD:
TAGS :
---