MC:
Self Building House (Command Blocks) [Redstone]
Category:
Minecraft PE Maps
Viewed:
13 -
Published at:
19 days ago
Description:
This map uses a ton of command blocks which are used to create a house from scratch automatically. Different block animations and vanilla sounds are used to create this house. The whole house takes about 2 minutes to complete. After completion, it can be dismantled. Dismantling of the house takes about 6 seconds to complete.
Creator: BluFlyaway, Twitter Account
Updated: 13 June, 2018 (read changelog)
How does it work?
You can start the process by pressing the button on the blue lapiz block. It's a really fantastic animation which takes around 1 – 2 minutes to view from start to finish.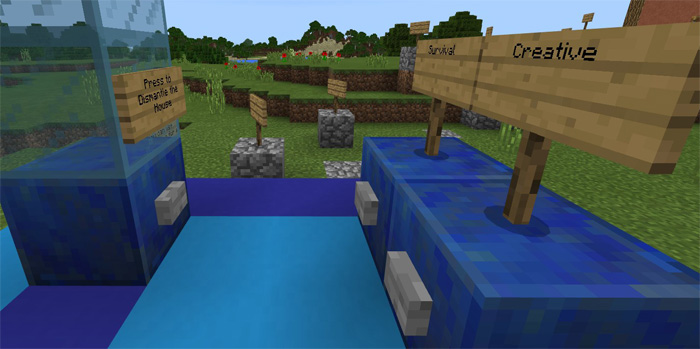 Press here or on the image down below to view a GIF animation for when parts of the house is automatically built.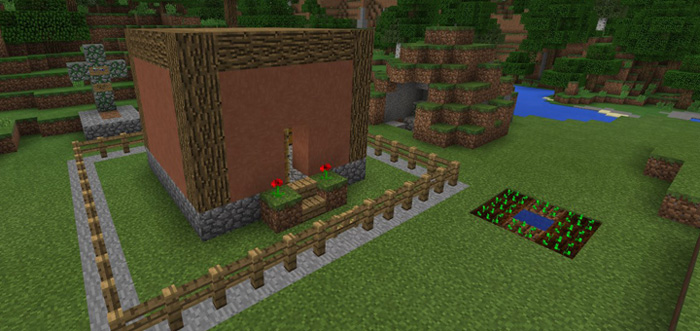 Features
Self Building with tons of block animations (e.g. rolling logs)
Build and dismantle the house with the press of a button
An Easter egg (it's a gadget)
Interior of house included.
Rules
Do not press the build button more than once
You can use creative mode for better view
Changelog
Fixed a rare case in which some animations failed to complete.
Easter egg is more noticeable now
Now teleports the player facing the proper direction so that they do not miss the first animation.
Removed Hall of Fame
Other minor fixes
Installation
TAGS :
---