MC:
Painting in MCPE [Creation]
Category:
Minecraft PE Maps
Viewed:
23 -
Published at:
23 days ago
Description:
Do you like to paint? Well, I hope so! This creation lets you paint in Minecraft PE. You can choose among five different brushes and lots of different colors. It's possible to save (and load) paintings and much more. It's definitely an amazing creation worth trying out and most of it is made possible because of command blocks!
Creator: AboodyCraft, Twitter Account
Updated: 27 January, 2018 (read changelog)
How does it work?
You can reset the paint canvas by pressing the Clear ('C') button. It's quite hard to see on the image down below but there is actually a button there.
Before you start painting you should select the type of brush and color you want to use. You can do so by pressing the different buttons on the right side of the canvas.
Options
Touch (Pointing Hand): On = Paint by breaking blocks on the canvas, Off = Break blocks on the canvas to erase paint
Fill (Bucket): Option 1: Fill the whole canvas when you press it. Option 2: Fill Space, fill only the spaces you haven't painted or areas which are erased
Erase: Erases instead of paints
To paint you need to physically move your player to the canvas. Then just move your player in any direction that you want to paint. It's important that you don't break any blocks.
Make sure that your render distance is set to max. If that isn't the case then you will only be able to paint the bottom section of the canvas.
You can view a GIF animation by clicking here for when a player paints.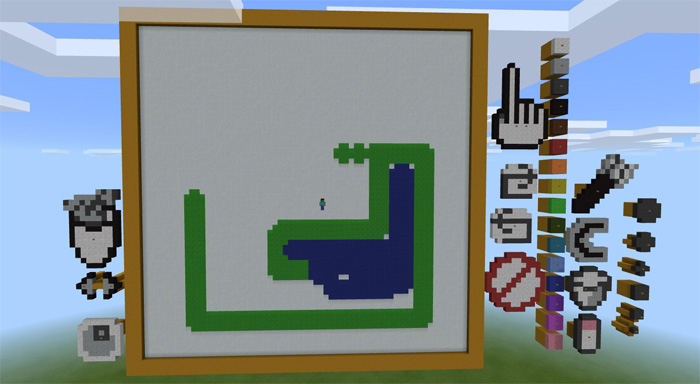 When you are satisfied with your painting then you can press the SAVE button to save it to the memory. This means that you can save all of your masterpieces.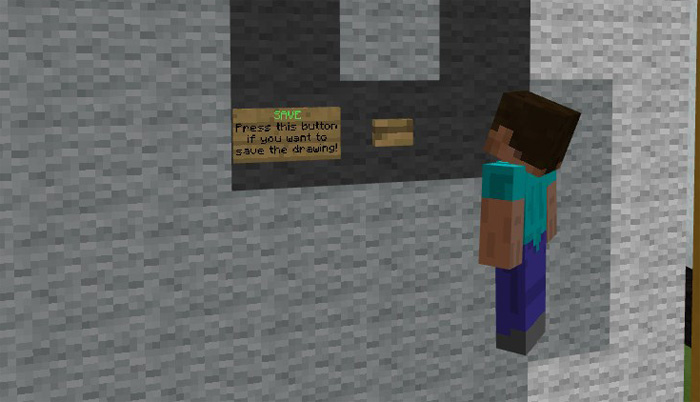 You can then use the load feature to load previous paintings. Simply use the left and right buttons to browse your collection.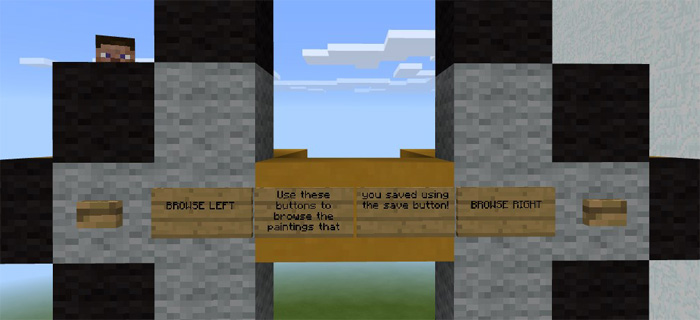 Changelog
Changed wool into concrete, painting looks more smooth
Tweaked things like the commands and signs
Remove
Installation
TAGS :
---