Description:
Do you know TapL's OP Eggs plugin? Here's a recreation of that plugin but as an add-on for Bedrock Edition. The add-on changes one thing and that is what the eggs drop in Minecraft! So instead of each time a chicken lays and egg, it will instead drop OP items!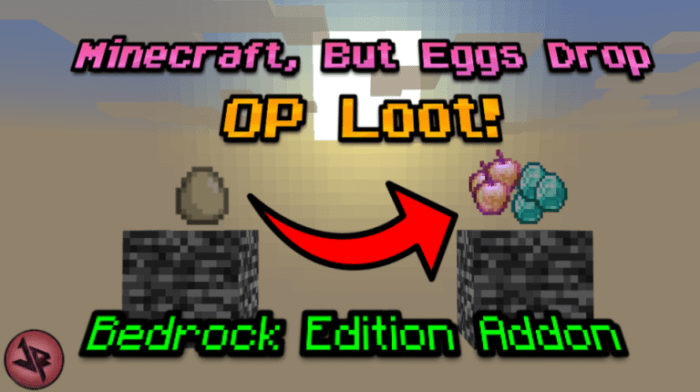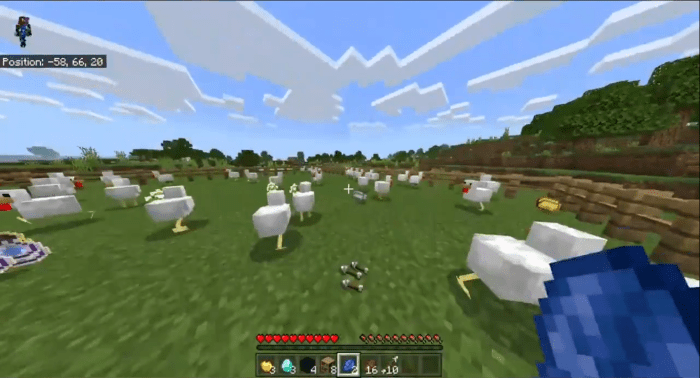 Possible Drops Include:
Seeds
Wood
Steak
Golden Carrots
Bottle o' Enchanting
Iron Blocks
Gold Blocks
Emerald Blocks
Lapis Lazuli
Diamonds or Diamond Blocks
Netherite Scraps, Netherite Ingots or Netherite Blocks
Bookshelves
Anvils
Enchantment Tables
Enchanted Books
Potions
TNT
Enchanted Diamond Tools/Weapons/Armor
Enchanted Bows/Crossbows/Tridents
Arrows
Obsidian
Golden Apples
God Apples
Totems
Fireworks and Elytras
Disclaimer: This addon only works when you set your in-game language settings to English.
---
This addon was made by jesser101
Website: https://jesser101.xyz/
jesser101's Discord Server (https://discord.gg/9eyvctkjSz)
Installation
The mcpack and zip files are mediafire links.
If you want a direct download file from discord, download using the "Content Discord" link!
DOWNLOAD:
TAGS :
---