Description:
Minecraft bedrock world edit addon. You can use this addon in your server or singplayer world to edit your world more easy. Very usefull when making bigger changes. You can copy and paste things around your world or you can use tools to fill holes or make holes. I hope to release this addon as soon as possible but I first want to finish the whole addon before sharing the files.
Features:
    Fill,
    Fill hollow,
    select blocks from UI,
    terraForming,
    LOADS OF BLOCKS!
Addon usage:
Currently you have to use 3 blocks.
1. Normal ice block (place in hotbar doesn't matter)
2. Packed iceblock (place in hotbar doesn't matter)
3. Blue iceblock (place in hotbar doesn't matter)
Use the normal ice blocks to retrieve the positions. And use the packed iceblock to place the selected block.
Copying works almost the same. Select the positions wich the building is in and than use the blue iceblock to set the position to set the location where to paste it to.

Updates:
    1.0.3:
        Added fences, walls, and concrete to the UI,
        Automatically removes the ice block you place,
        Fixed a Issue where the player could not open the UI,
        Added christmas music?!?!
    1.0.5:
        Added a tool to create mountains.
        Added 2 replace functions to replace the sand to grass or stone.
        Added 5 new blocks to the UI (barrier block, iron_bars, etc).
    1.0.7
 . Added a tooltip in the UI
 . Added categories
 . Added a UNDEFINED BUTTON
 . Added a hollow function
    1.0.8
     . Added Search function
     . Added Glass blocks
     . Added glass main page
     . Fixed multiplayer
    1.0.9
     . Changed the search function
     . Added ore blocks
     . Added ice blocks
     . No more double UI (MP), Still some issue on mp.
    1.1.0
     . You can now fill bigger spaces!
     . Displaying coords when placing blocks!
     . Fixed a bug with hollow not working!
     . Improved the hollow function to be faster
    1.1.1
     . New dirt blocks added to the UI
     . Code improvement
     . Issue: UI scaling
Video's:
    Updated video!: Video
Screenshots:
Cloning:    
    Editing tools (updated!):
    Cloning:
    Mountains: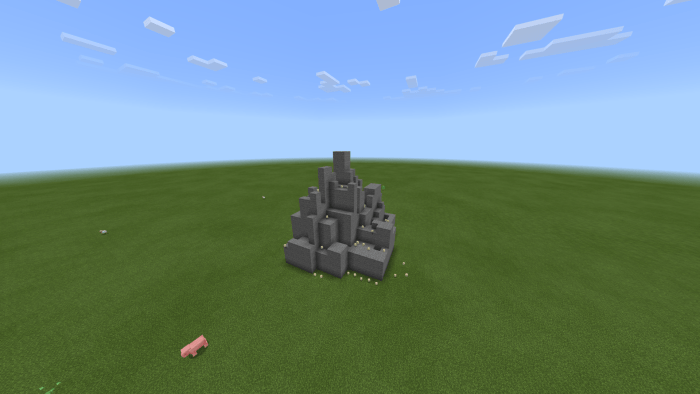 DOWNLOAD:
TAGS :
---