Description:
Modern pieces of furniture and stuffs – from sofas and table sets, fabulous beautiful decorations to fantastic gaming setups with monitors, chairs and gadgets, every piece of furniture are there for you to enjoy! Created by Kraftoid.
Created by: Kraftoid (formerly PocketKent), Twitter Account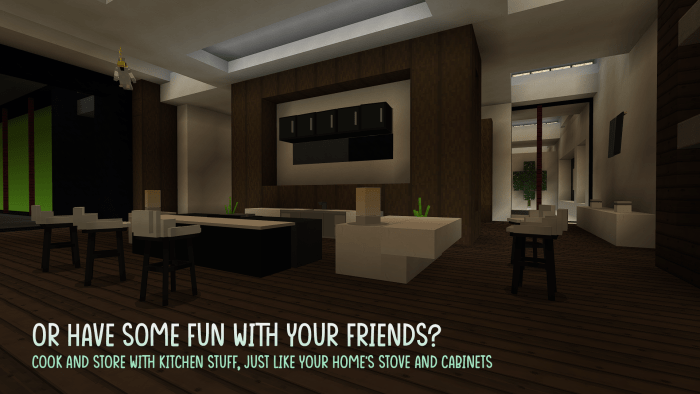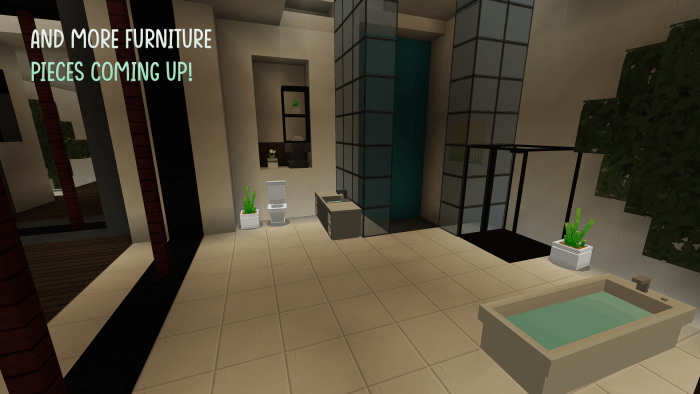 This furniture pack contains  more than 20 pieces of furniture, and will be added and updated regularly based on your requests through comments and Discord server messages:
 FURNITURE LIST 

Bathtub
Bench
Cabinet
Camera
Chair
Countertops (one and three block-long countertops)
Gaming desktop
Plants (including mini-sized plants and tall plants)
Fridges (with inventory)
Gaming chair (with a seat)
Laptop
Light panels
Microphones
Monitors (including widescreen and vertical monitors)
Oven
Modern 3d paintings
Shelves (including a high shelf and a wall shelf)
Shower
Sink
Sofa (seats for five players)
Stool (with a seat)
Telescope
Television
Toilet
Wall Clock
Computer accessories (including headsets and keyboard & mouse)
Tables (including center tables, big and mini tables)
Lamps (including modern table lamp, reading lamp and a full lamp)
More furniture pieces, stuffs and functionalities will going to be added (color variations, survival support and functions) in the next furniture update, so stay tuned!
 TERMS OF USE 
You can use the pack for personal use ONLY. You will have a great time with it!
In case you will gonna use it for a YouTube or any social media content/video, you may use it freely! Just please grant my wish – by leaving some credits and the official link in your video or any use.
Please don't use, replicate or distribute the same models and textures. I'll keep watching for it.
 POSSIBLE FREQUENTLY ASKED QUESTIONS (FAQ) 
WILL YOU ADD MORE FURNITURE PIECES IN THE FUTURE? It's a yes. I will keep it updated every week or two!
WILL YOU ADD MORE COLORS TO FURNITURE PIECES? Yes! I will start working on color variations after I got this pack posted!
WILL YOU ADD ANIMATIONS TO THESE? Eventually, yes. For now, nope. Let's work first on expanding the furniture library!
 JOIN THE ADD-ON'S DISCORD SERVER  
We have the server for the  Modern Furniture Addon. To join, you can simply click or use this server link: https://discord.gg/t3PpQMYFkQ
This server is the home for all your questions, feature request, or anything you wanna talk about it. You can wander around the server anytime you want.
Installation
In order to install the Modern Furniture add-on on your phone or desktop:
Download both resources and behavior packs through given links down.
Please skip and avoid harmful ads. These links are one of only few ways you can make me happy!
Click both resources and behavior .mcpack to start importing to your Minecraft client.
Make sure to activate the behavior and resources pack before the game. No need to enable experimental features. (The furniture pieces will not work without both of them  running active)
Open your world, and enjoy!
DOWNLOAD:
TAGS :
---