Description:
Ever wished you had that addon that youtubers have? Or maybe you just want something new and is sick of the plain old minecraft, well this pack is for you! This pack has 10+ features to make this game impossible!
This pack has some features


Creepers
Creepers instantly get charged whenever you get near
Creepers constantly get struck by lightning everytime you get near
Skeletons
Bad effects
You get slowness
You get weakness
Good effects (To help you)
Resistance
Thats all you get
Extras
3 slots in your hotbar only
Zombies are a little op (not too much)
More!
How to activate the addon
Type

 

/give @s command_block

Place the command block down

Set it to repeat

Set it to always active

Type

 

function impossiblemode

Enjoy your new impossible life!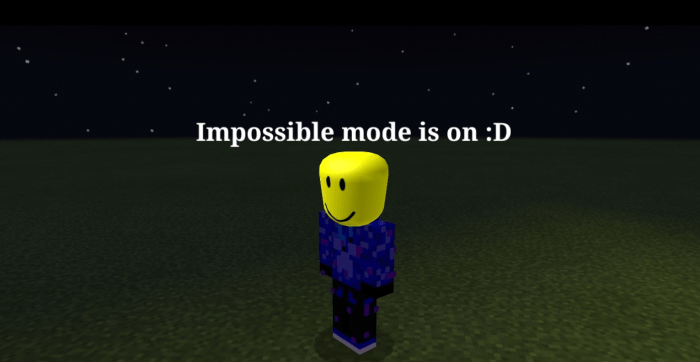 If you need a more detailed explanation, heres a video!


Enjoy this function pack!
Installation
Click the download link
Click continue
Click blue box
Click minecraft
Go to settings> storage> resource packs
Delete "Impossible Mode Addon" (Resource pack not behaviour)
Go back to menu
Click play
Put behaviour pack in a world
Enjoy!
DOWNLOAD:
TAGS :
---