MC:
Stealing the DIAMOND
Category:
Minecraft PE Maps
Viewed:
7 -
Published at:
15 days ago
Description:
Welcome to the business of thievery.  Your first mission is to get the Diamond of Diamond Co.  Have success – and we'll promote you to top executive of our gang.  Fail… and well – we'll kick you out.  Are you ready to take the challenge?
this is a world made in 1.14 Minecraft Education – just because LOL 
I'm pretty sure it supports all bedrock versions 1.14+ but I might be wrong
—————————————————————————————————
Instructions/Info MUST READ
This map is a medium sized map that has a game play time of about 20-30 minutes.
Some things that might help you on the way:
Your xp bar determines your record – if your record goes to a full bar – you "get caught" and you die and must return back to start
Things about your record – it increases every time you step onto a red concrete block – step on one of these and your record will go up once about every second you stand on it.
*Red concrete blocks are the camera's view point, some will be still, and some move*
There are also security rooms that provide a commandblock titled Clear Record, which, as the name suggests, clears your xp bar.
In addition, there are also different types of doors:
A birch door signifies that you can just open it
A iron door with a lapis block requires a lvl 1 key card
A iron door with a gold block requires a lvl 2 key card
A iron door with a diamond block requires a lvl 3 key card
A iron door with a emerald block requires a lvl 4 key card
A iron door with a Redstone block signifies that it is broken and you can just open it without needing a card
And finally, any iron doors that have no level signifying block or a birch door with black concrete behind it are just there merely for esthetics.
Extra notes:
There are some bugs that my map tester notified me of:
-The air vent may not teleport you into the bank
if this happens, type in the command /tp ~ ~30 ~ into the chat and then try entering the vent again
All other parts of the map were tested and were reported bug free by two map testers.  However, if you experience any bugs, please state so in the comments below and I'll get back to you as soon as I can.
—————————————————————————————————
Pictures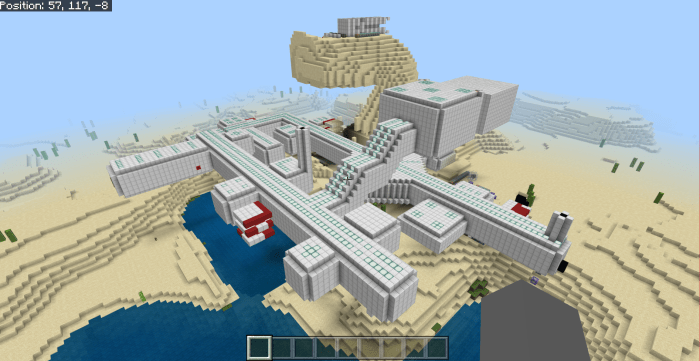 Full map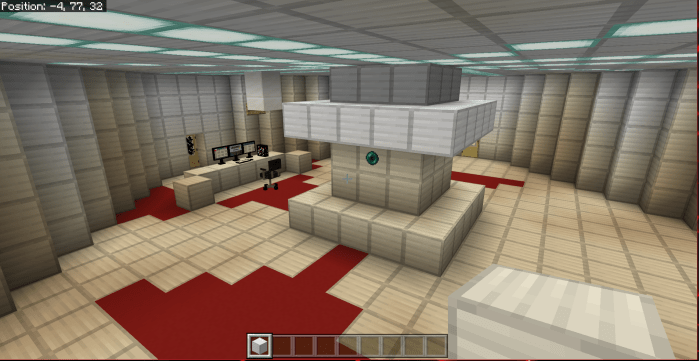 One of the many rooms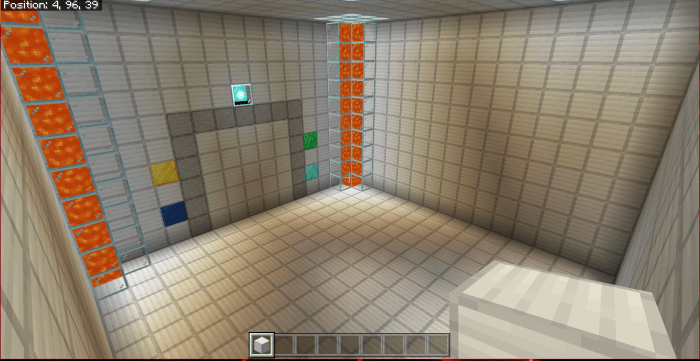 Safe Room Entrance
—————————————————————————————————
Texture packs created by:
SwungLepord862 | https://www.planetminecraft.com/texture-pack/windowed-doors/
JEBR_Gaming | https://mcpedl.com/invisible-item-frames/
ROBERTGAMER69 | https://mcpedl.com/decoration-add-on/
Also SirRob's pack is activated on this world but is not used | https://mcpedl.com/floating-text-addon-4/
If you feature this in a video – please give credit too these three creators too and place these links and my MCPEDL link in the description.
Installation
To give you no trouble, I provided only a direct link to a medifire download. 
*IF THERE ARE SEVERAL FILES DOWNLOADED ONTO YOUR COMPUTER - ONLY OPEN THE ONE TITLED "STEALING THE §bDIAMOND"*
DOWNLOAD:
TAGS :
---