Description:
This add-on replaces the Salmon with deadly Piranhas which will attack their victim in groups. They are hostile by default and will always attack anyone who dare get near them. The core idea for this add-on was to make the sea slightly more dangerous. From here on, you will most likely be more careful next time you go for a swim!
Creator: Raboy_13, Twitter Account
How does it work?
The Piranha are found in oceans usually in groups. If one Piranha attacks a victim then the rest of the Piranhas will follow and do the same. One of them might not prove to be much of a threat, but it's a complete different ballpark when you have tens of them attacking you.
Small Piranha – Attack Damage: 6
Medium Piranha – Attack Damage: 6
Large Piranha – Attack Damage: 10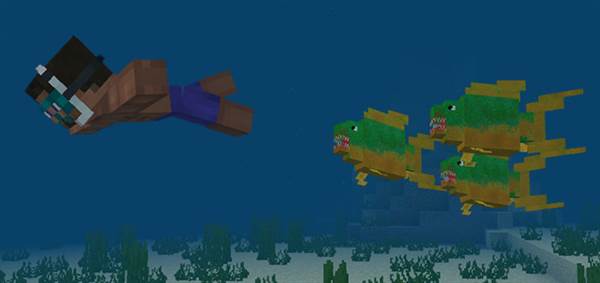 The main idea by adding this new fish was to add a new challenge in the game. And that's surely something you will experience if you decide downloading this add-on!
Items
All new items replace the Salmon items.
Bucket of Piranha
Raw Piranha
Cooked Piranha
Piranha Spawn Egg
Installation
Apply resource and behavior packs to your world
Create the world
TAGS :