Description:
No longer will you have to see 20 floating NPC names!
This revolutionary addon is perfect for story games, servers, Kit PVP, or anything else!
What does it do? Well, it's quite simple. Before, when you name an NPC< the nametag is visible from anywhere, and over time these nametags can stack up and become a nuisance for your world. Not to mention if 2 or more NPCs are together, the names would have overlapped. 
That's where this addon comes in! When enabled, only the name of the NPC you are looking at will show. It's that simple! (Not for recreational use, this is a tool for your servers and or worlds).
Why should I use this?
Well, this is only really useful when you use NPCs in the first place. Assuming you know how to spawn and use these, here's why this could be very helpful. 
This massively reduces NPC lag, which occurs from the NPC's nametag

Allows you to "hide" NPCs, while also keeping their name

The name displays only when the player's crosshair is on the NPC

This is more ascetically pleasing, since who wants to go in a world with 20 names floating everywhere? 

This also means you can put NPCs right beside each other, without their names overlapping, and still allowing the player to read their names

Saves the NPC's names, no need to worry about that

Can be  disabled and enabled whenever you want
What's an NPC?
An NPC is basically an invulnerable entity that can be used as a book, command block, and player, and sign. IF you want to spawn one in, type either of these commands: "/summon ~ minecraft:npc ~ ~ ~" or /give @s spawn_egg 1 51″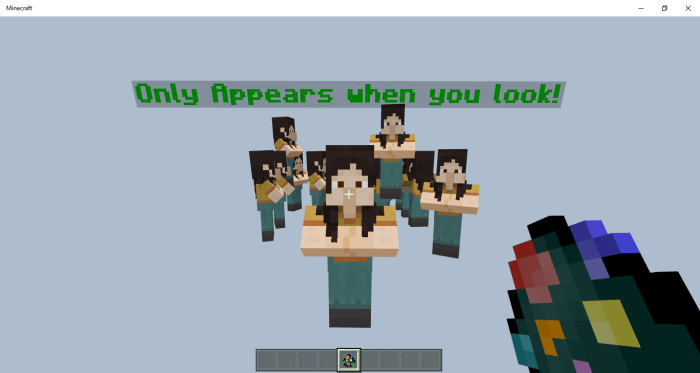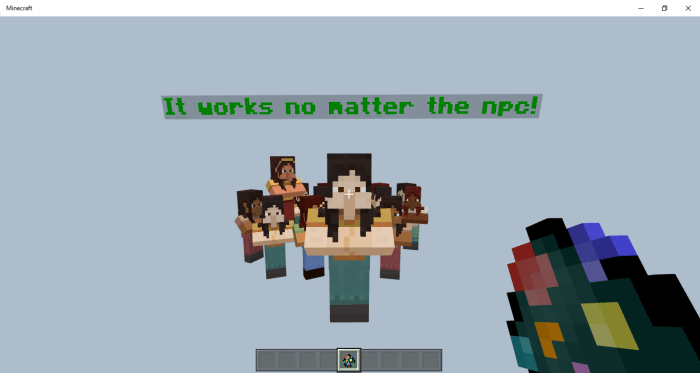 Installation
When installing the "NPC Nametag Hider ", first locate the "NPC Nametag Hider Download", which takes you to the full download site, with all the features listed above, as well as a quick download.
Assuming you pressed the "NPC Nametag Hider Download", scroll down until you arrive at the free access button, press it, and you will be taken to the download site.
Make sure to finish the assigned task(s) to continue. For the "read news article" task, press it, wait 10 seconds, and close. You don't have to waste time on the articles.
Once all tasks are done, the download will be complete, and all you have to do is locate the black box and press the blue download button inside. The purpose of this method is to securely give purchasers their download link, without people pirating or corrupting the site.
A file will open if you have done this all correctly, which when pressed will export the world to your Minecraft worlds. (Please note: Make sure to have Minecraft open first.)
If the file is a (.zip), you will have to convert it to a .mcworld for it to work. In order to activate the addon, make a world, or edit a world, and from there, go to behavior packs, and activate the Teams Addon pack. This will not work if you are in the world, you can only activate it from the editing menu.
Enjoy your addon!
DOWNLOAD:
TAGS :
---