Description:
Do you want some challenges in your world ? This Add-On fill your world with a lava lake at Y=0 or Y=50, which rises step by step in order to destroy your world. It will make your survival very hard because when lava exceeds the surface, you can no longer go underground and you have to espace by climbing a mountain or build a house in t
Gameplay :
This Add-On add global lava which rises every 10-20 seconds in order to make a very challenging survival but very funny, solo or with your friends. There is two modes : One where lava starts at the 0 layer, and an other where lava starts at the 50 layers, so the second one is harder and make a classic survival very hard/ impossible
How to choose the difficulty?
Once loaded the Behavior Pack (Add-On), you have to go on the small "gear" at the bottom right of the pack :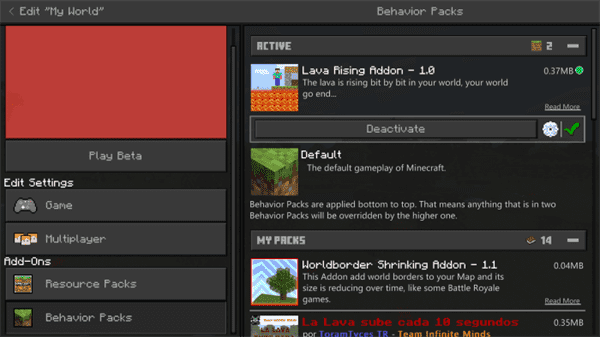 Then, be sure to have enabled Experimental Gameplay and Cheats !
Information : Lava is generated by 32×32 zones (every 1 second) and not all the Map or charged chunks, because it's impossible with /fill command and it will cause a lot of lags for low-end devices otherwise.
Credits and other informations :
► Addon created by : Floshox (me)
► Floshox's Twitter : https://twitter.com/Floshox 
► Discord server for Floshox's Add-Ons (this one, Better Bedrock, World Border and so on) :
https://discord.gg/DxE6zdw 
I created this Discord to report bugs from my Add-Ons and also to give me suggestions.
Installation
1) Download the Add-On with the link above.
2) Load it into your Minecraft
3) Create a world and load the Add-On in the "Behavior Packs" tab.
4) Choose the lava starting layer (Y=0 or Y=50).
5) Enable Experimental gameplay and cheats !
6) Enjoy :)
DOWNLOAD:
TAGS :
---