Description:
This addon is based on the playstation game "God Of War" where you will find many new textures, sounds, music, mobs and more !!!
This project is focused on bringing the essence of the original video game, music, enemies, gods, etc …
All the textures found there and mobs were created by my Doctor Joker, there are some that were free and free to use which I found in different free texture pages, if you see one that you have seen before it is for the reason that it is free to use .
If you know how to make textures you can also upload them in free use for us modders to be able to make addons !!!
Warning:
This addon was published on MCPEDL.COM and on MY YOUTUBE CHANNEL  https://www.youtube.com/channel/UCNWTnqalRfgZFurYGY4Uy4A ,  it is not allowed to publish this plugin on other Minecraft Addons websites or applications without the permission of the creator you can contact you with me here: https://twitter.com/jokerMCPE2  If you are going to put my addon on your youtube, put the mcpedl download link or from my youtube don't put the direct download link or create your own download link or you will get a complaint.

HOW DOES THIS ADDON WORK?
To play my addon you must put your world in EXPERIMENTAL mode to be able to play it, since it adds more, it does not replace mobs, textures, MUSIC and much more !!!
All of these new mobs spawn naturally in biomes, similar to the original God Of war game.
At the beginning you can make the decision to be kratos or be yourself, since now you are a God, you have too much life and strength
Performance Glitches?
If the performance in the game is difficult, remove in world obtions "mob generation" and put this command in the chat bar "/ Kill @ e" that way it will make the game more fluid. But you must put the mobs yourself personally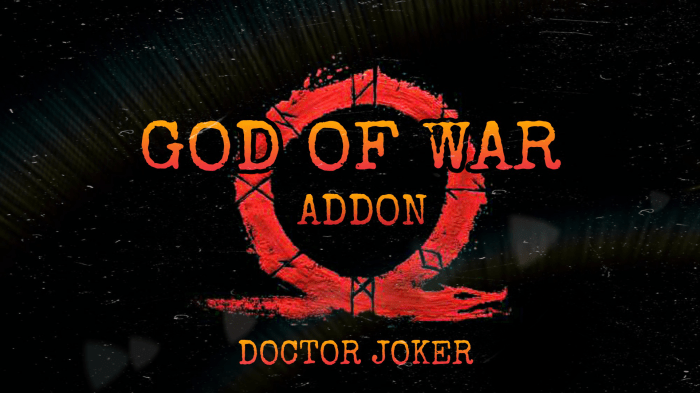 New weapons and armors:
You will find new weapons with textures very similar to the original game, Among the new weapons you will find the leviathan ax which replaces the trident, if you put the spell on it the ax will return to you just like in the original game !!!
You will also find the swords of chaos and the bow of Atreus You will also find new swords and axes that will be used by the Draugr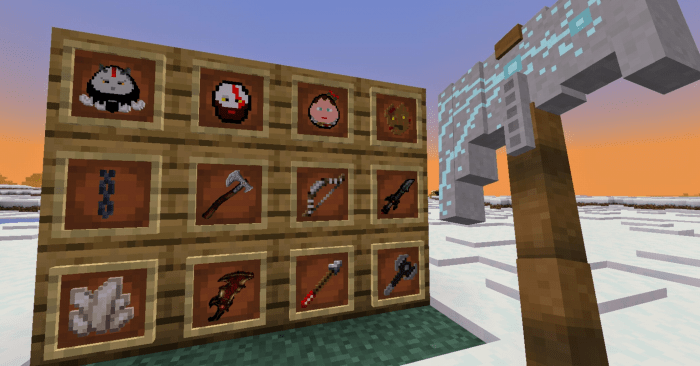 Among the new armor you will find the skins of kratos, giving you resistance and a lot of life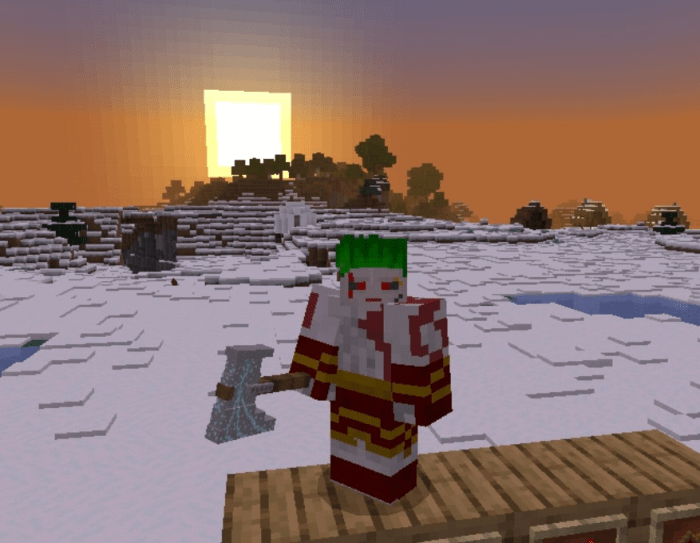 Kratos: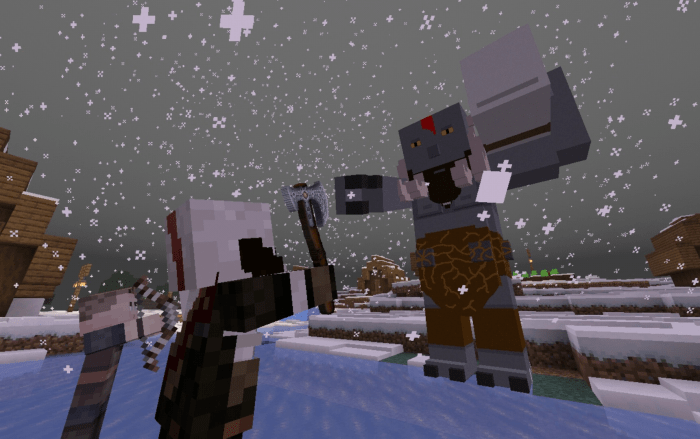 Kratos is a god, he is too strong and agile, you will always find him with his son next to him just like in the original game, you can tame him with raw salmon just like the son Atreus !!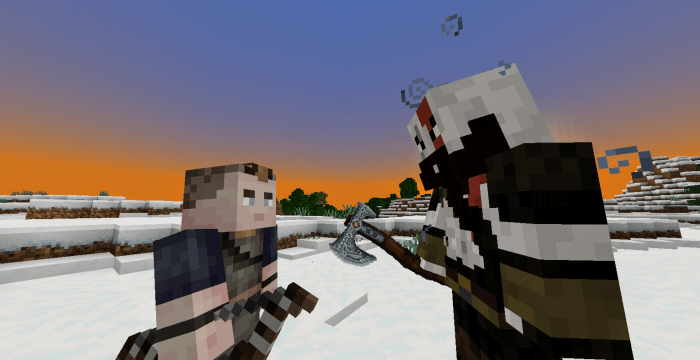 Features:
Health: 800
Generate: atreus
scale: 1.2 (a little more than the player)
attack: Draugr, troll., zombie, creeper, and more…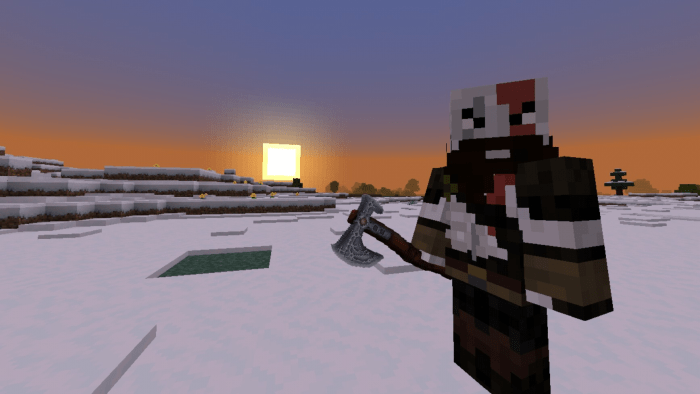 Kratos can spawn in two ways, the first is that he wields the Leviathan axe and the other with his chaos swords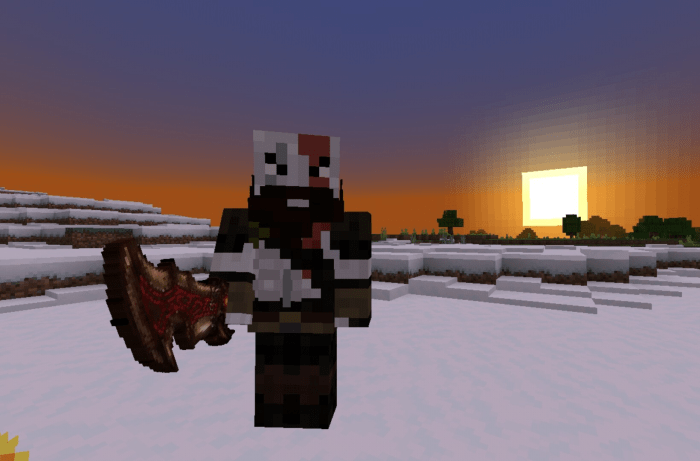 Atreus:
Areus is a child but he is still too powerful and much more powerful when he is next to his father since this will always happen, Aredus will always be accompanied by his father Kratos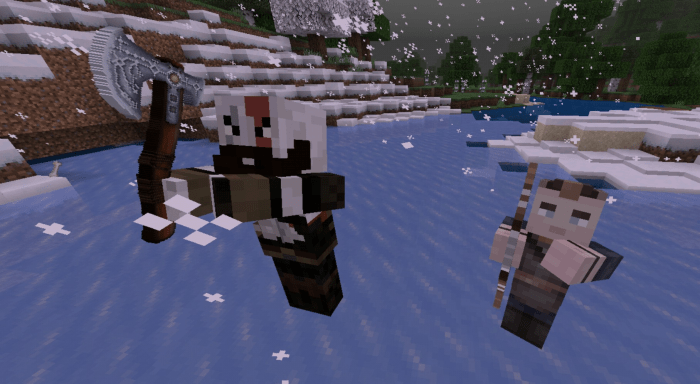 Features:
Health: 400
Shoot: arrow ( very fast)
scale: 0.8 
attack: Draugr, troll., zombie, creeper, and more…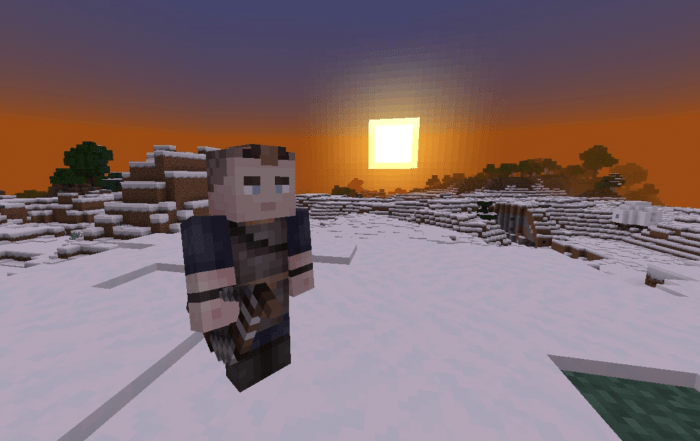 Don't forget that you can make Kratos and Aryus follow you if you give them some raw salmon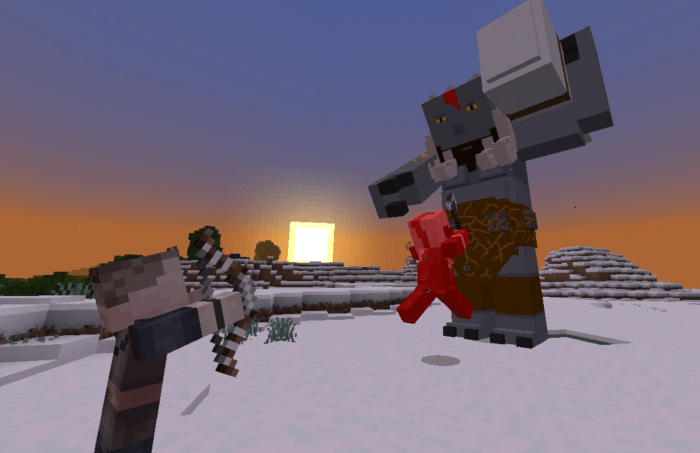 Troll (Dauði Kaupmaðr):
this huge troll monster is very dangerous as it is too big and strong, It is not that fast but every time it attacks you it will generate a slow effect making it more difficult to defeat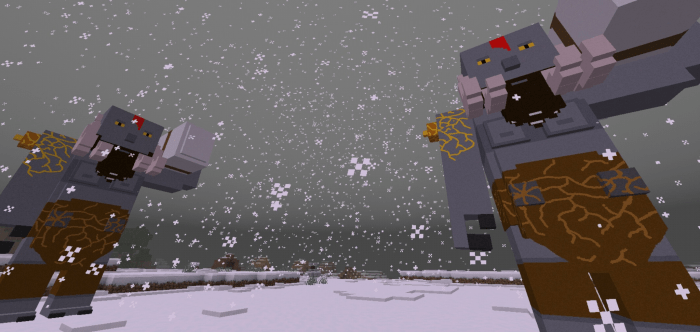 Features:
Health: 300
Hit effect: slow
scale: 2.5 ( big)
attack: player, villager, Kratos, Atreus, and more…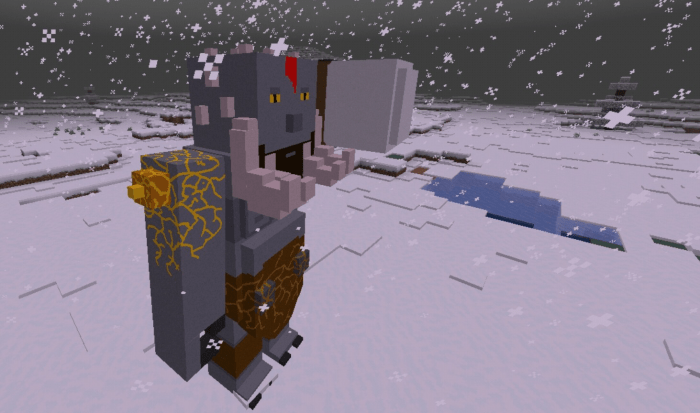 If you did not have the power of the gods it would be very difficult to defeat him but as this addon gives you powers you can fight against him a little easier …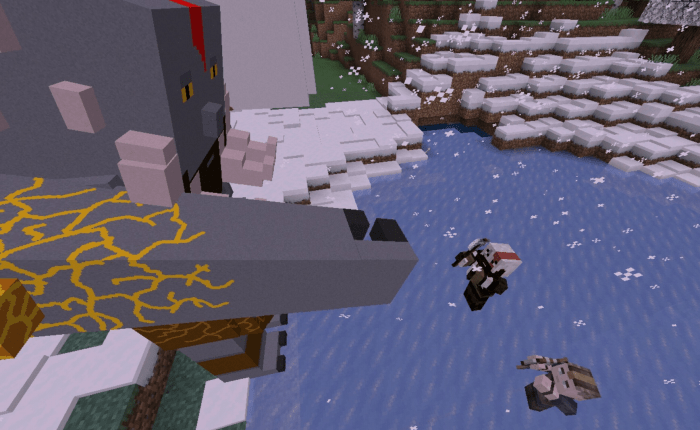 Draugr:
These zombie skeletons are the easiest to defeat, of course if they are alone because if there are many around it will be much more complicated since each hit they give you will give you the effect of wither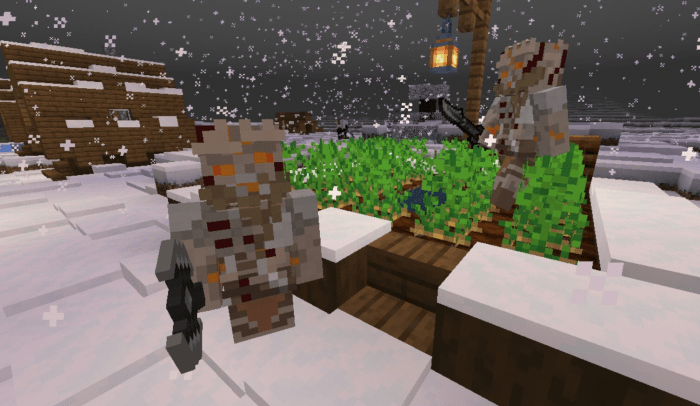 Features:
Health: 30
Equipment: stone axe and sword stone
scale: 0.5, 1.0,1.2
attack: player, villager, Kratos, Atreus, and more…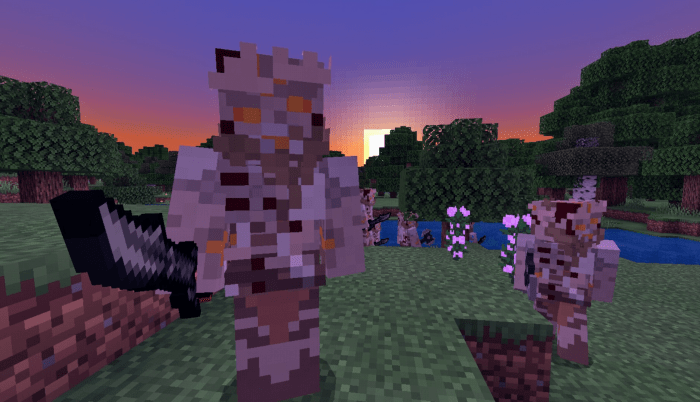 Important
phase two update?
If you want this addon to be updated, we must reach 350 subscribers on my YouTube channel https://www.youtube.com/channel/UCNWTnqalRfgZFurYGY4Uy4A/featured and have more than 5 thousand downloads since this is what we achieved with my star wars addon : https://mcpedl.com/star-wars-addon-first-order/  Which I really appreciate !!!
content spoiler phase two:
kratos black, Hades, Zeus, Poseidon, adn more!!!
Trailer:

Teaser Trailer:


Installation
1.  DOWNLOAD GOD OF WAR ADDON BY DOCTOR JOKER
2. press the downloaded file and it will automatically install into your game
3.  Subscribe to my channel for the next update
4. To play!!!
DOWNLOAD:
TAGS :
---