MC:
Eria: Ice Emperor Boss Fight! (Up To 4 Players!) [LIVES UPDATE]
Category:
Minecraft PE Maps
Viewed:
723 -
Published at:
3 years ago
Description:
Are you, and possibly 3 others, ready to face the challenge of Ice Emperor after taking down his brother, Volcanic Emperor?? Download and play to find out!
UP TO FOUR (4) PLAYERS! ANY MORE WILL BREAK THE MAP!
This is a very challenging custom command block run boss fight (meaning requires no additional Addons or Resource Packs), that up to 4 people can play at once!
This boss fight, Ice Emperor, is very unique as he is more focused on defense and has four (4) phases! His 4 phases include:
Phase One:
Slows down any nearby players.
Phase Two:
Guards himself with a barrier at the center of the map, unleashing the wrath of his icicle pillars while summoning his skeletal army.
Phase Three:
Summons 4 zombified guards while having a protective barrier around himself, not allowing anyone close to him!
Phase Four:
A mix of Phase 3 and 4!
Ice Emperor's Stats:
Ice Emperor has an iron helmet and boots, diamond chestplate and leggings, all with Protection 15! His mighty axe also has Sharpness 15 so it really packs a punch!
Player(s) Stats:
The player is geared with full Diamond unenchanted armor, with a diamond sword and an unenchanted bow! Healing in gaps is also given.
Replayable?:
Unlike Volcanic Emperor, when boss is beat, the map resets, therefore allowing to be replayed without having to reinstall the map!
Now extra difficulty is added! You now have 3 lives and losing all of them means a game over! It will take many attempts to defeat!
Images of the map itself:
Lobby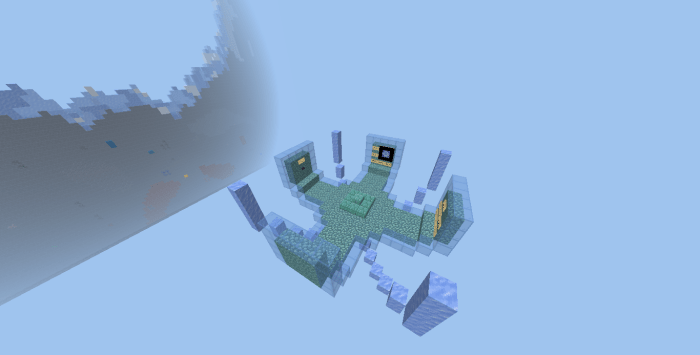 Arena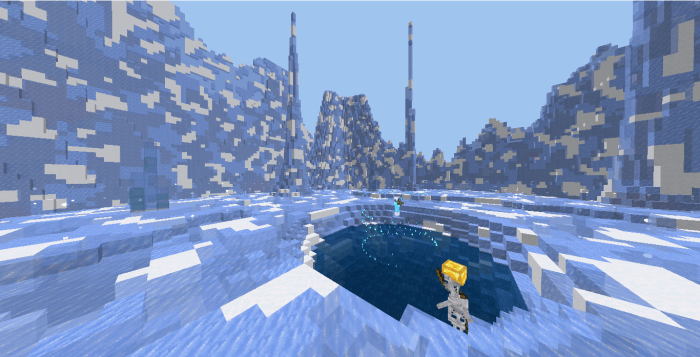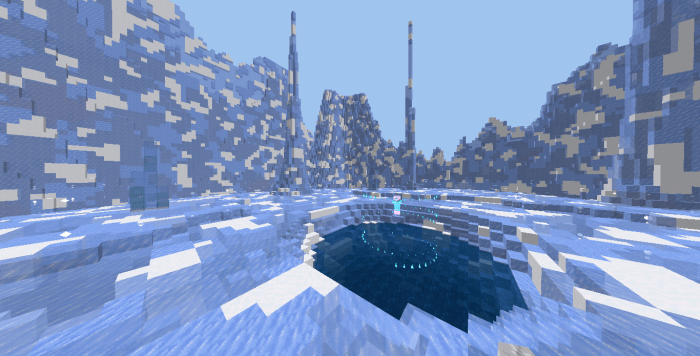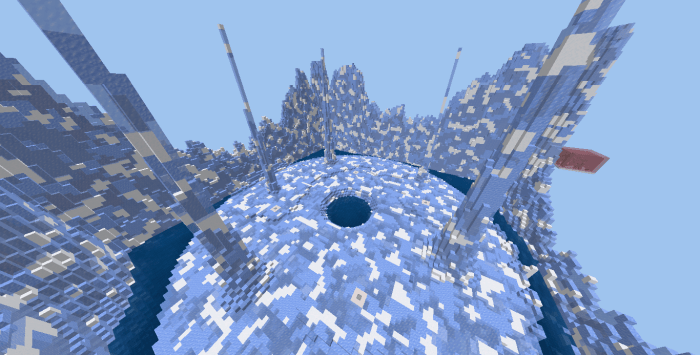 For Command Block learners:
The commands running the start and in game are very obviously placed in order to be studied! The in game commands are at the very center of the map, 64, y, 64!
Multiplayer is supported however only UP TO FOUR (4) PLAYERS!
My Friend and I made a video on it! Check it out for more details!
NOTE THE LINK USES AD FLY! FOLLOW THE STEPS IT GIVES YOU, AND RIGHT AFTER MAKE SURE TO DISABLE NOTIFICATIONS BY PRESSING THE LOCK NEXT TO THE LINK!!!
We hope you have fun!
Installation
1) Through Ad fly, make sure to follow instructions then UNDO the instructions right after!
2) Once downloaded, just click/press on the downloaded object and Minecraft will instantly load!
3) Have fun!
DOWNLOAD:
TAGS :
---