Description:
Back to the days when Enchanted Golden Apples could be crafted and boats could be made without a wooden shovel! This being my first Add-on ever I decided to go simple and with something that I myself will use regularly.
This is my very first Add-on that I ever created. I always appreciated simpler Add-on's that did not take away from the vanilla Minecraft experience too much. This Add-on allows you to craft Enchanted Golden Apples again using 8 Gold Blocks and 1 Apple. It also brings back the old boat recipe allowing players to craft boats without needing to make a wooden shovel before hand. I hope that you enjoy this Add-on as much as I enjoyed learning how to make it!
New recipe for enchanted golden apples: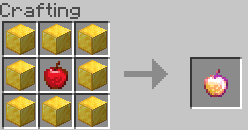 New recipe for crafting boats (works on all wood types)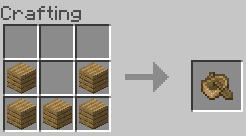 Installation
    This Add-on  **Should** work on all Minecraft versions as it does not impose too much on the game, but was made in version 1.14
    Open Minecraft: Bedrock edition to the main menu
    Double click on the .mcpack file.
    You should see the pack start to install inside of Minecraft.
    You must have "Experimental Features" turned on for the Add-on to function

DOWNLOAD:
TAGS :