Description:
Do you love Minigames? Parkour? Survival and Adventure? Who loves horror maps? Then download this one map . It's free! Everything you like was found here – from science to arts ; For Girls or boys . Start with money Earning in survival then explore the world , planets and play Minigames with friends/ solo.

Note:
• This map was first created on 2015(when I was 10 years old) so please do not republish this map and claim as yours😓
• If you use this map on your video please leave a link of this site(or else, i can report your video)
• Some of this buildings are edited using Master Builder App
• Everywhere you go ,the background music will automatically play . For example: Parkour(Dramatic and Intense BG Music) & Elsa's Castle (Let it go Instrumental) 
• You can recreate the map and update it but do not republish this as new submission in MCPEDL
      [ BUILDINGS                  IN MAP ]
1.) Portals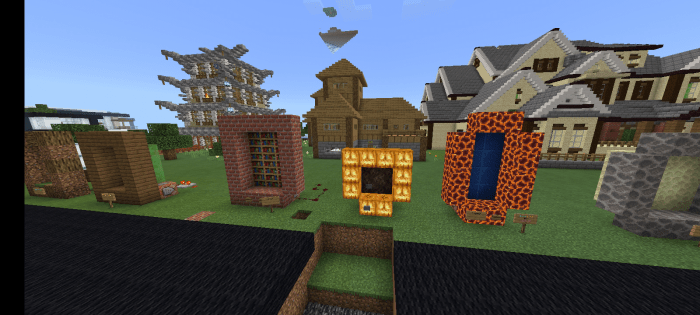 There are four portal you can enter : Outer Space, Minigames, School and Horror Map… (but the other unworking portals will be update soon)
If the portal wont work try to use lever or fix the redstone circuit
a.) Minigames– when you enter the portal your game mode will automatically change to Adventure .
Possible Games: Cooking Mama, Rules of Survival, Temple Run, Super Mario(lvl1-10) , Shooting (with reward)
With friends : Boxing, Clash of clans, Boat shooting, Hide n seek, Plant Vs Zombie
Coming soon: Granny
b.) Horror Map– This map is very creepy + thunder and cemetery ambience . I don't want to tell you the next , just to surprise you haha😛😆
c.) School – With your friends , you can make your own teaching system .
d.) Outerspace: Automatically set the time into night . Celestial Bodies existing : Moon and Mars. Feather falling effect as gravity speed .
Coming soon: Sun and Galaxy
2.) Cherry Blossom Forest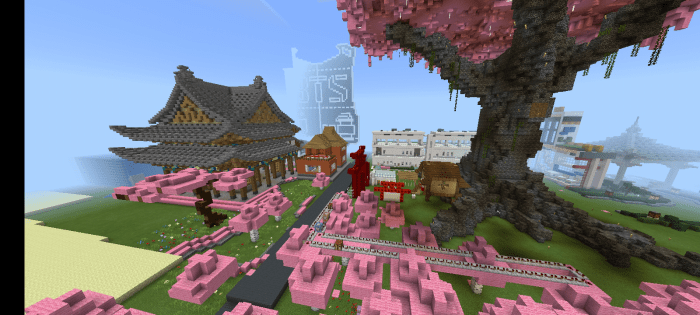 If you are a KPOP Lover , here, you can stay and listen the music "BTS- Spring day" .
3.) Arendelle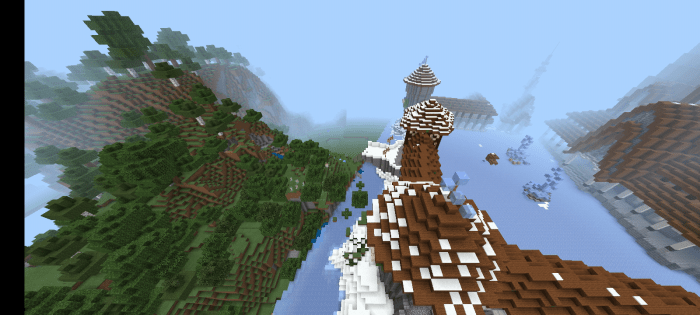 Frozen Lover? Travel here!
Place Background music: First time in Forever Instrumental
4.) Stampy and Spongebob Area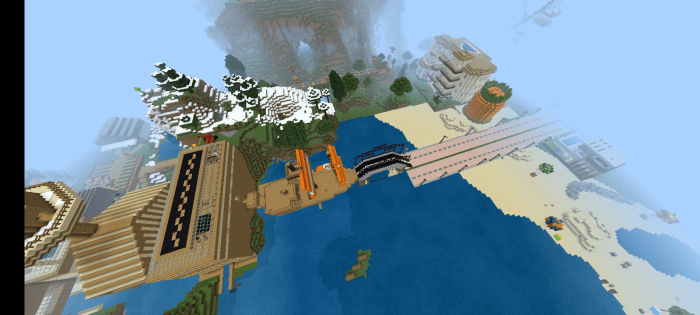 5.) Rollercoaster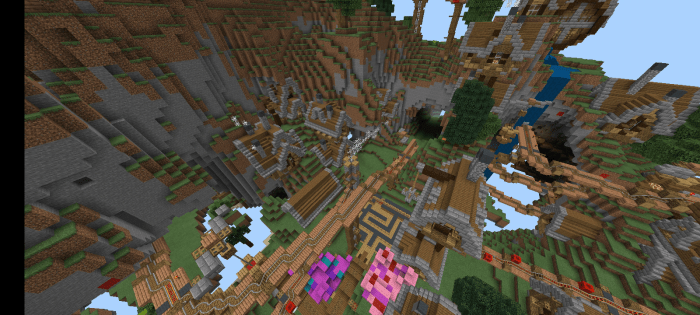 I forgot , there is also a portal named " Rollercoaster" and it is better to go entrance so that you can get background music
Background music: Super Mario
Style: Medieval
6.) Church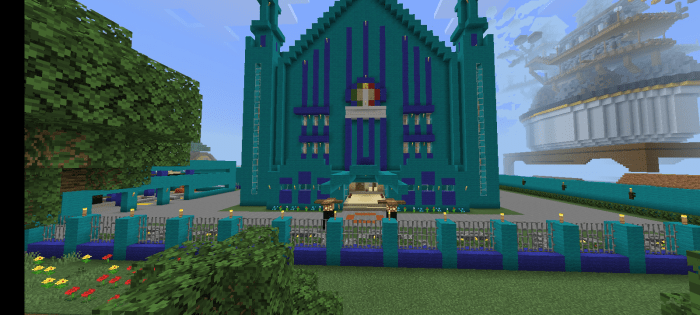 In this map, there's only one church . Whenever you enter the church , the magical and relaxing background music plays 
BG: Kevin MacLeod – Enchanted Valley
7.) Earning Rewards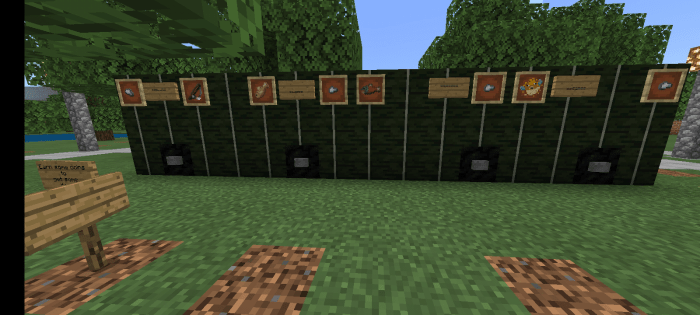 You can earn rewards through fishing .
What to do with a reward?
Reward can buy you foods and tickets to travel.
8.) Restaurants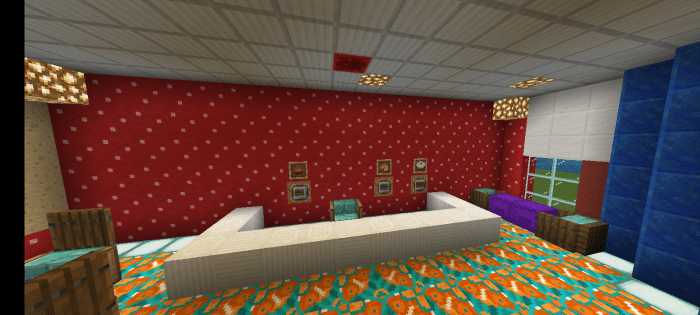 As you got the rewards , you can then buy foods in restaurants by hovering the command blocks to see the price.
9.) Night Fireworks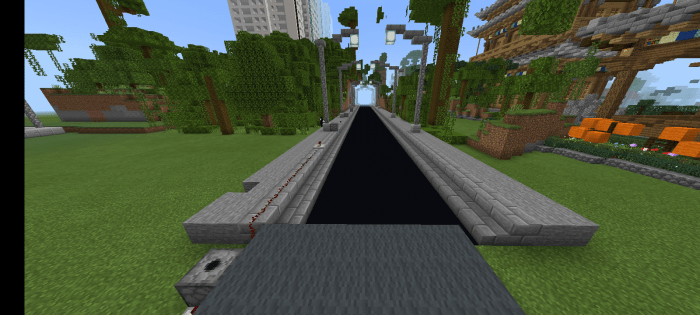 Dispensers will shoot fireworks every night time
10.) Parkour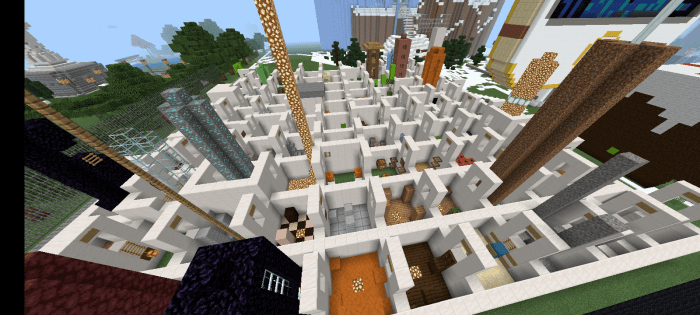 There's also another Parkour in a map aside from minigame one.
BG Music: Helmet Heroes – Arena Entrance
11.) Clash of clans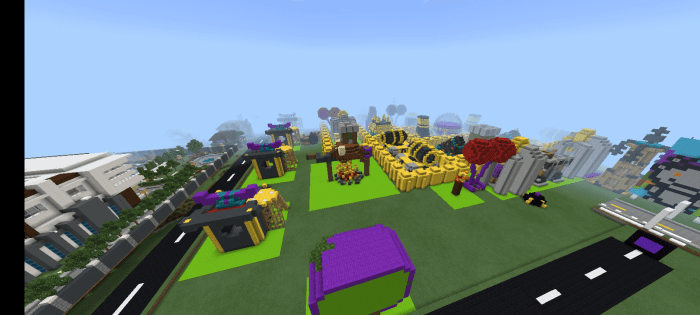 12.) Elsa's Castle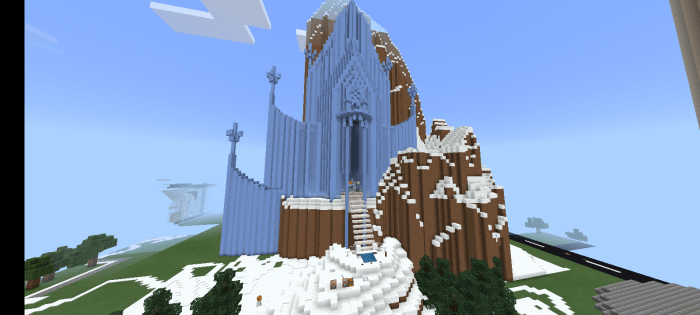 13.) Science Lab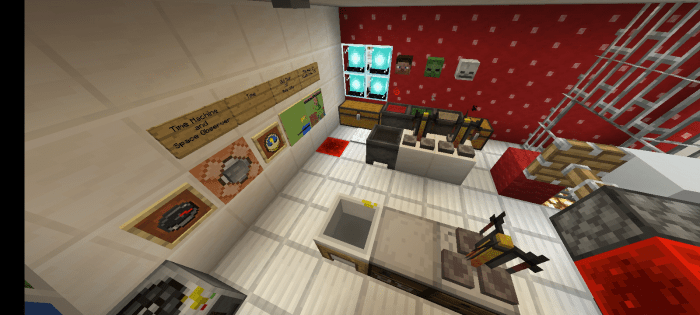 Are you a science lover?
This laboratory offers you many things : Chemistry , Surgery , Redstone Physics and Constellation Observing.
14.) Hotel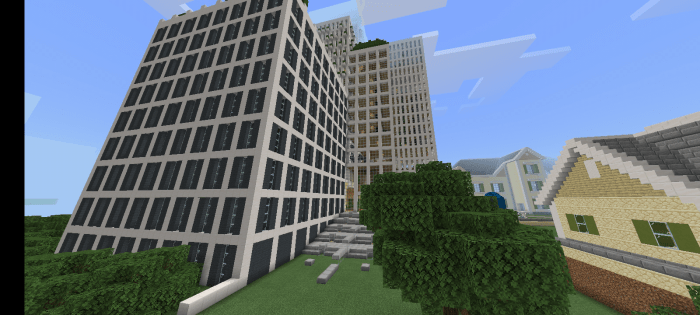 Guys , this hotel is not yet compete like room is empty so please customize your room and leave a name😁
15.) Rocket to Space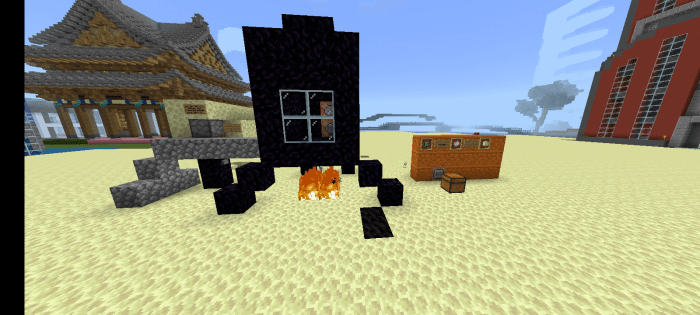 This is just the same on what I said on number one . But portal is free and in this rocket you need to earn moneys to buy a ticket. Put a ticket in a dispenser to enter the rocket.
The rocket is ugly because this was made by 8-years old me before haha
BG Music: Angry Birds Space
16.) Aqua life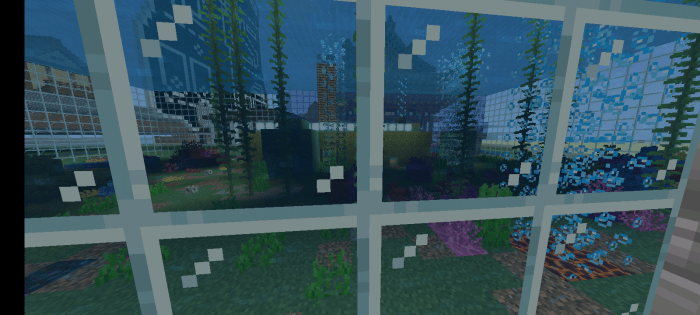 Aquarium with house for you to live but be careful on nearby creatures sometimes pufferfish and guardian will spawn
BG Music: Helmet Heroes- Aqualantis
17.) Beach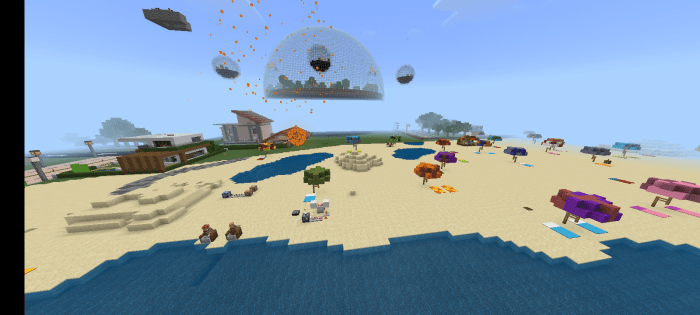 BG Music: Helmet Heroes- Tropical Beach
18.) Jungle and Mushrooms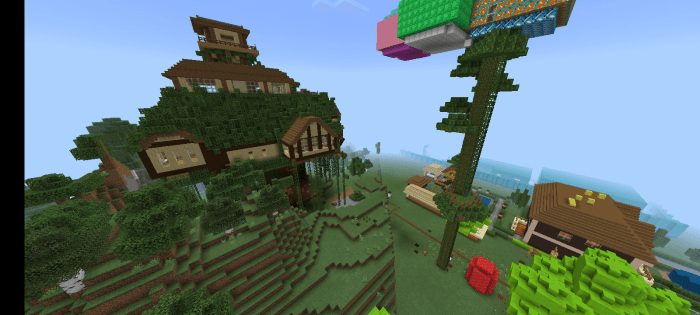 BG Music: Helmet Heroes : Mushroom Alley
19.) Volcano and Forest Campaign Area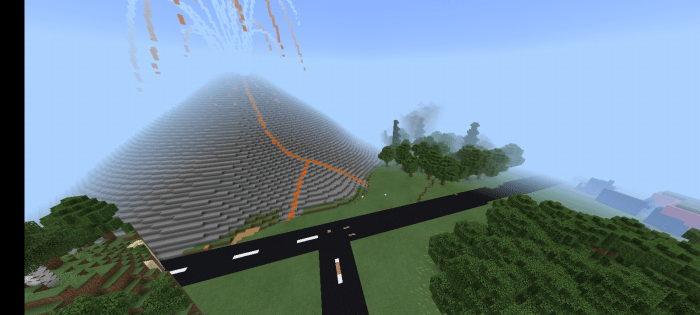 If you have free time in game you can visit this peaceful place . You can bring your friends in campaign area(forest nearby the volcano) . Chicken will always spawn in this place
20.) Airport and many more..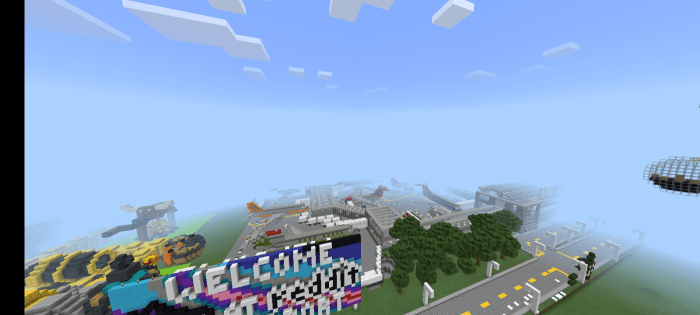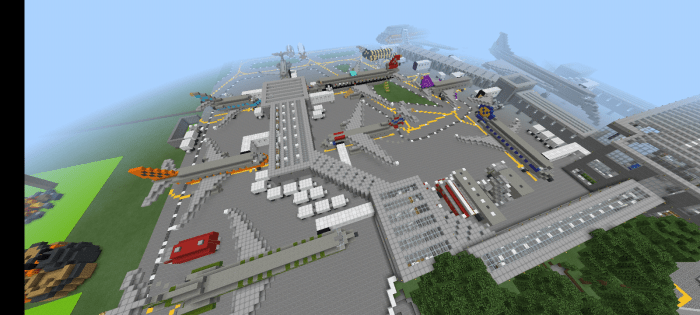 Every airplane has its own destination : But only 2 are working : Seoul Korea(Black pink Concert) and New York
Coming soon: Japan, Swedish, Manila-Philippines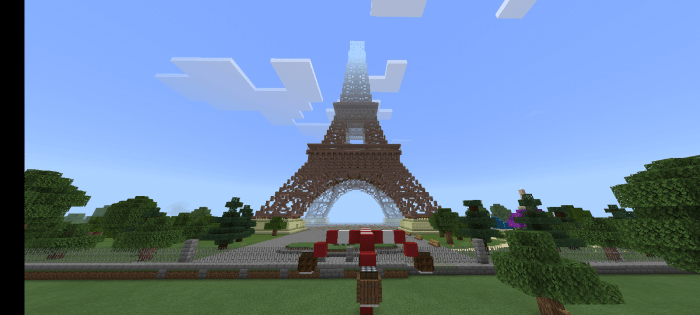 [End]
Updates buildings will be announce soon
[My MESSAGE]
     I am happy for sharing my childhood memories😢🙂 and I hope that you share this map guys through youtube or in any ways as long as you give a credit to this site and please..please .. do not republish this map.. Thank you.. Welcome to my map future visitors 😁
— 2015 time Traveller 😆
Installation
Simply open the .mcworld file ..No need to extract
DOWNLOAD:
TAGS :
---