Description:
The wyvern is a mythical creature with wings, two legs and a dragon's head. It's mainly the fact that it only has two legs which makes it a wyvern and not a dragon (which by the way has four legs). This is actually a good monster to have in your world as you will be able to tame it, keep it as your pet and have it help you in combat.
This addon comes with a special surprise and that is that you can choose between 7 different colors for your wyverns!
Creator: Gona, Twitter Account
Taming & Growing
Wyverns can be found spawning in caves and tunnels as they replace bats. Make sure to bring a weapon the next time you go underground because the larger ones are hostile.
You can tame young ones with any type of meat or fish and if you are successful some heart particles will appear.
It takes more than 40 minutes for a small wyvern to grow to the largest size. If you don't want to sit around and wait then feed it some meat or fish and then lastly some gunpowder to make it reach the final stage (6).

Growth Stages:
Stage 1:

Wild

 Passive
Health: 10 hearts
Tameable

Tamed

Passive
Health: 15 hearts

Stage 2:

Wild

Passive
Health: 15 hearts
Tameable

Tamed

Passive
Health: 25 hearts

Stage 3:

Wild

Passive
Health: 20 hearts
Tameable

Tamed

Passive
Health: 40 hearts

Stage 4:

Wild

Passive
Health: 25 hearts
Tameable

Tamed

Helps by spitting fire
Health: 65 hearts
Mountable

Stage 5: 

Wild

Hostile
Health: 30 hearts
Not tameable

Tamed

Helps by spitting fire
Health: 90 hearts
Mountable

Stage 6: 

Wild

Doesn't spawn as wild in this stage

Tamed

Helps by spitting explosive firebals
Health: 125 hearts
Mountable
What can a wyvern be used for?
A tamed wyvern loves its master and will always follow you around. If it for some reason gets away from you it will be teleported back to your location.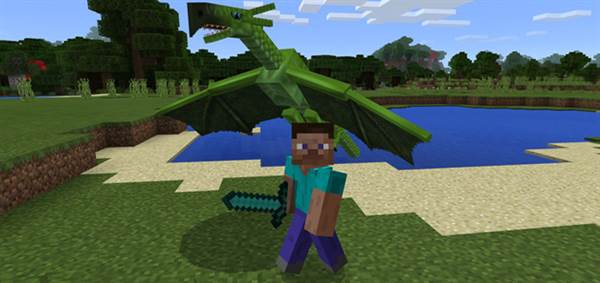 If you ever find yourself up against monsters then it won't take long before your wyvern is there to protect you by spitting fireballs (assuming it's at growth stage 4 or above).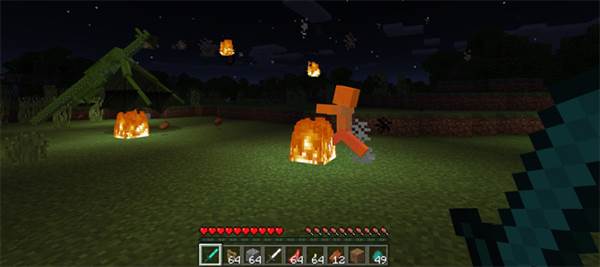 Sheep are an easy prey for the wyvern. They love to set them on fire and watch them die. You might think that's evil but you gotta keep in mind that the wyvern is often depicted as a monster.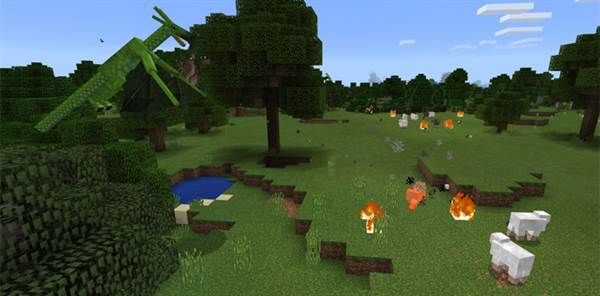 You can mount a wyvern and ride on it but as it works right now you can't control it. I really hope that it will be possible in a later version but right now addons don't have this possibility.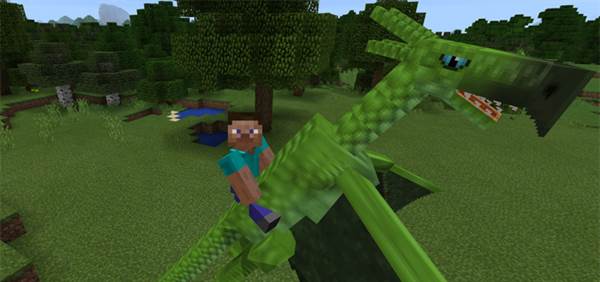 If you for whatever reason want a tamed wyvern to stop following you then you can tie it to a fence post with a leash.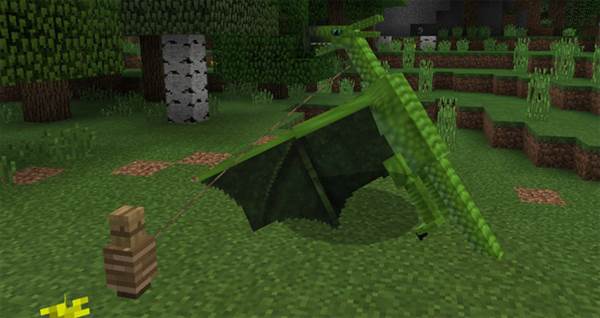 Installation
Download one of the following resource packs:

Activate the behavior pack and resource pack for a world in-game
TAGS :