MC:
MCPE Circuit [Creation] (Addon!)
Category:
Minecraft PE Maps
Viewed:
0 -
Published at:
3 days ago
Description:
This map takes car racing to an entire new level in Minecraft Pocket Edition. It consists of one great racing track which even at top speed will take several minutes to complete. Along the track there are multiple spectator stands and other cool details. Take this opportunity to participate in your very first (I would assume) World Champion Grand Prix (but in a somewhat more blocky and pixelated environment)!
Creators: Gona (Twitter), Daniel Martinez (Twitter)
How to participate in a car race?
To participate in a car racing event I recommend that you have at least one more player (but preferably more) to compete against. There are multiple Formula One vehicles around spawn but you can also get one by using any of the spider spawn eggs.
iOS / Android: Long press on the vehicle and press Drive to enter the vehicle. Hold a key (also known as a carrot on a stick) to drive it.
Windows 10: Right-click a vehicle to enter it and hold a key (carrot on a stick) to control it.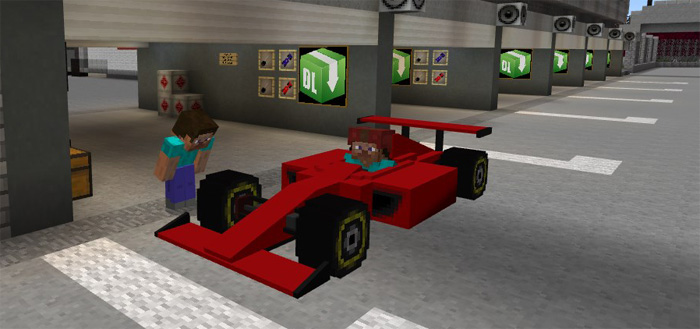 There are a lot to explore in this map and most of it can be found around the big spectator stands at the very beginning of the circuit.
The white ground markings indicate the specific position for each vehicle. If you're going to compete against other players I recommend lining up the cars on the same line to make sure no one gets an unfair advantage. Make sure to decide on total laps before setting off the countdown (which by the way has to be done manually in the in-game text chat).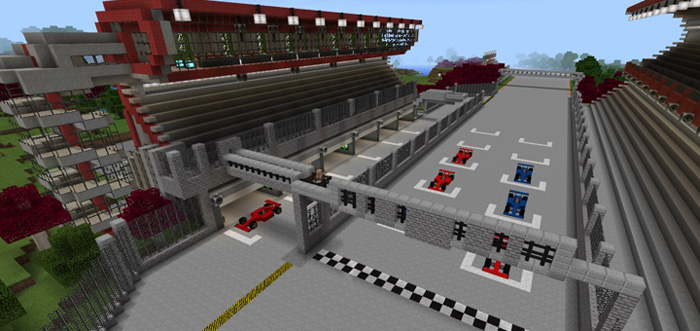 The red car is a bit faster but the blue one has a more powerful and lasting boost than the red car. You can use boost by using the key (carrot on a stick).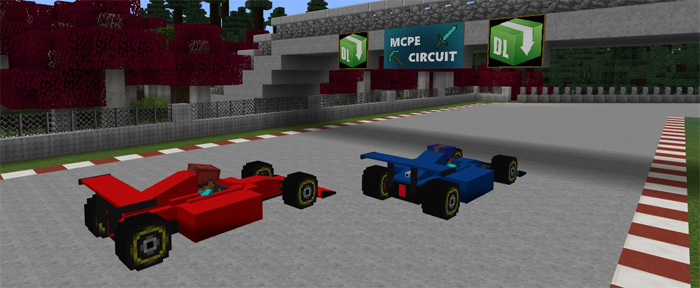 Get up on the podium and receive your prize!
The entire map is centered around racing but it doesn't necessary mean that all you can do is to race cars. There are also some cool creations worth exploring like these trucks which are used for transporting the Formula One vehicles.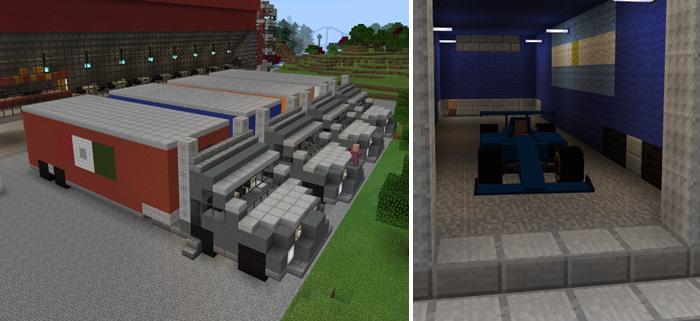 On top of one of the spectator stands you will find a control room. You can't really do anything there but it's useful for role playing.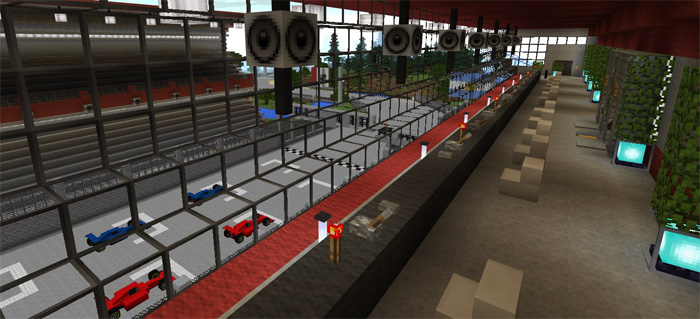 TAGS :
---