Description:
This resource pack makes it possible to access a hidden debug screen in the settings options in Minecraft Pocket Edition. None of the options will change any actual rules or settings in-game but they will provide you a glimpse of some features which probably are exclusively available for the Minecraft developers. It will only work for 0.15.9/0.16.0 users.
Creator: JoePaleto, Twitter Account
Once you've loaded the game press Settings and scroll down in the list on the left to find the Debug button. Press the button to open the debug options.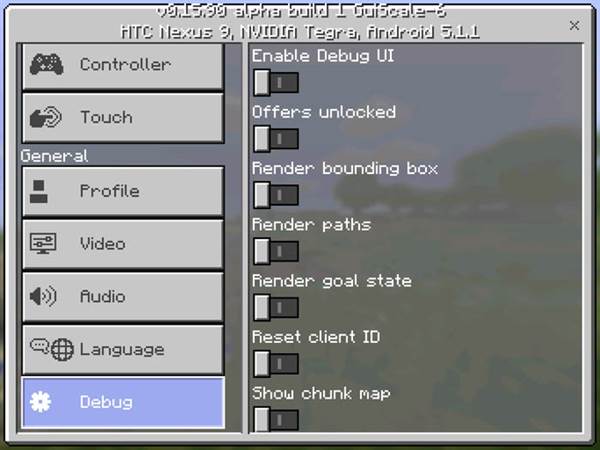 The options on this tab include the following:
Enable Debug UI
Offers unlocked
Render bounding box
Render paths
Render goal state
Reset client ID
Show chunk map
Enable profiler
Achievements always enabled
Use local server
Use FPS Independent Turning
Connection Quality: Unlimited
Use Retail XBL Sandbox
Create realm without purchase
Realm Enviroment: Production, Staging, Dev or Local
Some of the options will remain enabled after being toggled. However, none of the features actually seem to make any real changes to the game itself. It is likely all of this has to be enabled somewhere else or that you would need some kind of developer kit to be able to make sure of the features.
Either way it's fun to get a glimpse into what previously was unknown to us ordinary players.
Install Guide
This will work for iOS and Windows 10 Edition as soon as the 0.16.0 update is available for those operating systems as well. Currently you can use it for Android only.
Download the zip file.
Use ES File Explorer (or other file explorer/manager) to extract the zip file.
Copy the vanilla folder and paste it here: /games/com.mojang/resource_packs/
Open Minecraft Pocket Edition.
Settings> Profile> Texture Packs> Apply "Dank Memes"
Wait for it to load.
Restart Minecraft Pocket Edition.

TAGS :
---