MC:
FNaF 0 [FAN MADE]
Category:
Minecraft PE Maps
Viewed:
15 -
Published at:
16 days ago
Description:
This is a fan-made FNAF 0, which has it's mechanics and one new animatronic, however, the game is still based on the regular FNAF mechanics. Has it's uniqe building and only made for a multiplayer game.
First, I want to thank:
https://mcpedl.com/user/thelandlord282 for the texture pack which is used in the world –https://mcpedl.com/fnaf-1-and-2-texture-pack
and https://mcpedl.com/user/uriel-zero-over for the resource pack "FNAF heads" – https://mcpedl.com/fnaf-heads-resource-pack
No doors
    The guard in the office has no doors, however, the office has the controlled shock buttons
    They take a lot of energy, but it can be restarted. Animatronics can only be seen by using
    the cameras.
Restorable energy
    The energy can be restored by pulling the lever which would be in the office, it would
    shut all the office equipment for a while, but in about 18 seconds will restore all the
    power.
New animatronic: Bundie/Scrappie
    New animatronic, Bundie/Scrappie is an animatronic that sits right behind the guard's
    place, Bundie/Scrappie is a second animatronic, however, was on the stage only once
    and has malfunctioned due to a fatal error, then was abandoned in a parts & service room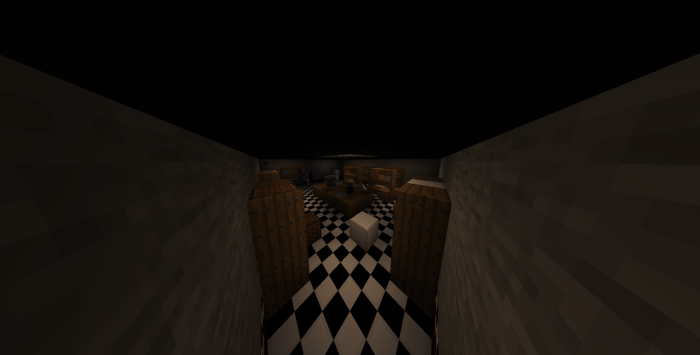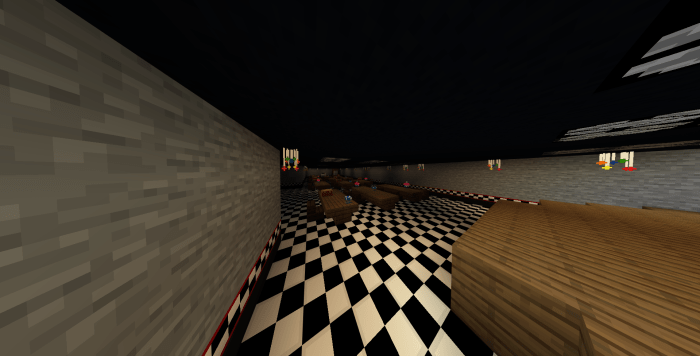 What I also want to inform you about is rules:
    Play in multiplayer only.
    Turn off in-game player names (Settings –> Video –> In-game Player Names),     otherwise the game would be easy because you will see where the     animatronics are, I also call it as a "Debug Mode".
Tips:
    If you are the nightguard, make sure all the other players have chosen what     animatronic they would be in the night, otherwise they won't be in the night.
    It is recommended to play with you headphones for better experience. When     chosen they must appear in the dark room with the text (red if played as an     animatronic) on the wall.
New announcements:
After some requests, I want to point out, that this map would map probably would not receive any updates since there is nothing left to add, the current state of the map completely matches the lore.
There is going to be a sequel for this map, with many more mysteries than there are in this map. I have written some of the timeline sketches which would appear to be included in the final map.
The map is no longer in a beta testing period. I will also think of adding some of the new features, but they would most likely be only in the sequel, as the lore. But, there might be some lore updates. New features are only replacing ones that are currently existent.
I also want to turn the attention of FNAF theorists to the upcoming map because it IS going to have lore hidden in it, which I hope that somebody is going to try to figure out.
Down in the comments below, I've noticed "TheLandLord282", the original creator of a texture pack that's actually used in the world, he asked if he could help me to update the current map, so I thought of it, and, made my conclusion, "Why not?" so if he gets to communicate with me, he would also be a part of the team.
Just to sum everything up:
1. A new, sequel map.
2. No more beta test for this map, and probably no more updates.
3. Lore for maps, and their own mysteries.
4. TheLandLord282, the FNAF resource pack creator, invited to be a part of a team.
DOWNLOAD:
TAGS :
---