Description:
We all know the Corvette. Sleek, elegant, fast. That is how one would describe a Corvette be it the C8 or the C4. But this is the C2, produced way back in the 60's. Yet it still holds up to how we described it earlier in this paragraph, but with one extra word, vintage. A gem from the 1960's, a design that still appeals to people even to this day. Great for cruising and will make you look good doing so!
Not only does it look sporty and has the 60's vibe but its was also powerful for its time, powered by a Big-Block tri-power V8 engine producing and approximate 435bhp and a top speed of a respectable 209kmh.
Car history (..1967 production)
"The Chevrolet Corvette (C2) is the second generation of the Chevrolet Corvette sports car, produced by the Chevrolet division of General Motors for the 1963 to 1967 model years.
The 427 was available with a 1282 ft³/min (605 L/s) Rochester 3X2-barrel carburetors arrangement, which the factory called Tri-Power producing 435 bhp (441 PS; 324 kW) at 5800 rpm and 460 lb⋅ft (624 N⋅m) at 4000 rpm of torque.[26] The ultimate Corvette engine for 1967 was coded L88, even wilder […]" -Wikipedia
Car details
Has mid-high speed, 2 seats, a container slot meant to be a container or a glovebox, animations and sounds.
Car colors
Has 1 variant and a total of 3 colors.
White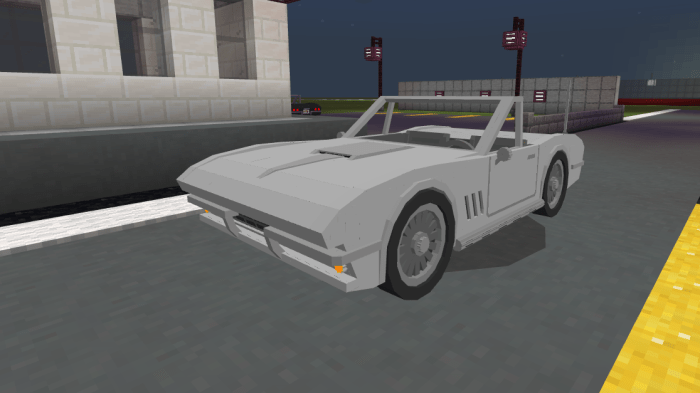 Dark Green
Blue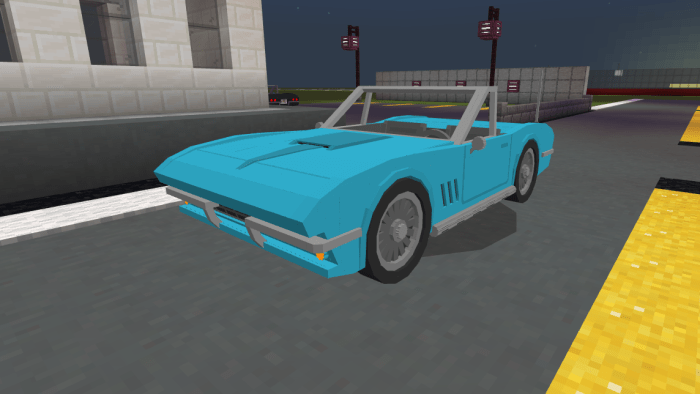 Extra Images
Side view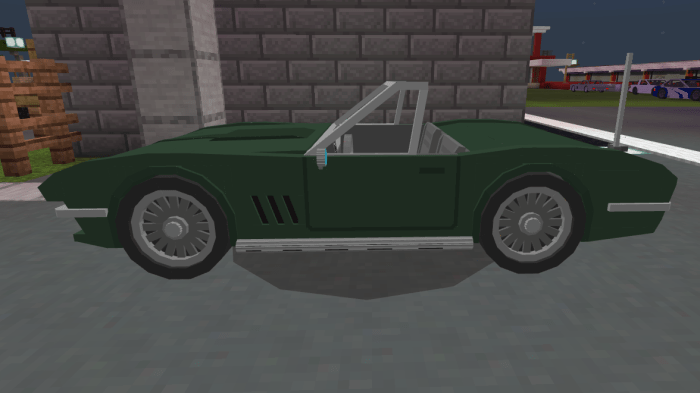 Back view
Interior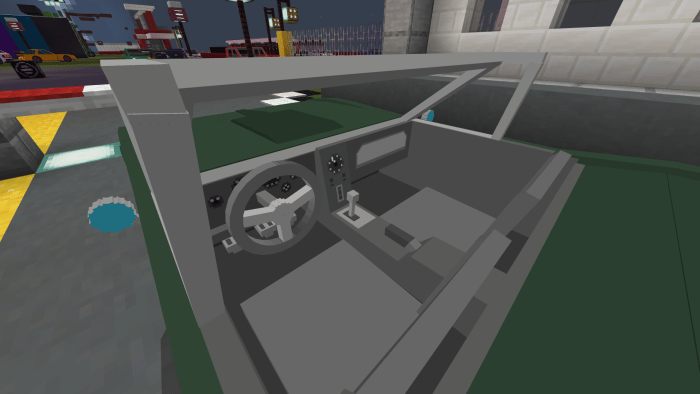 Softtop / roof appliance
Whenever it starts to rain, or when the car is in water, a softtop / roof will appear on the car (meant to protect from the rain).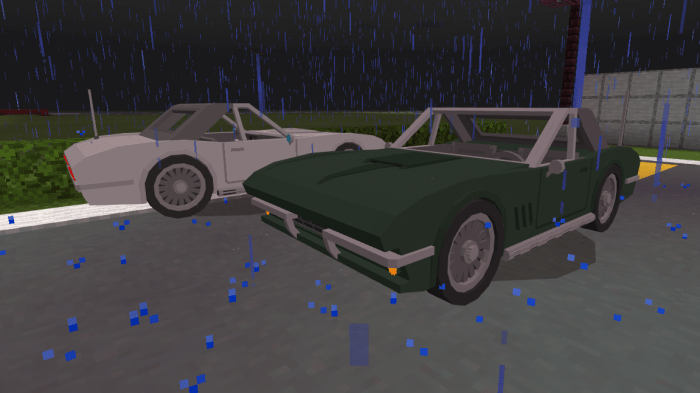 How to obtain
Method 1: Get their spawn eggs from the Creative Inventory. They are classified as spawn eggs.
Method 2: Use /summon commands:
/summon 67vette:white
/summon 67vette:dgreen
/summon 67vette:blue
Contacts
Twitter account: @ashminggu
Instagram account: @ashminggu
Email account: ashmingguashkali@gmail.com
Problem with AdFly?
Contact me through one if my contacts listed above and I'll send a direct download link whenever possible, no AdFly restrictions!
This addon is exclusive for MCPEDL. Any other websites that distribute this addon without my approval are false and are an act of plagiarizing.
Answering questions from previous posts
(Diablo GTR)
To those who asked the questions, sorry for not replying in time, I don't usually check back on the posts and therefore the comments. Felt bad when I noticed the comments/questions so here are some of those questions answered.
1. …when will you continue the NFS car pack?
The NFS car pack is quite an old project, back when my models weren't the greatest. This include the R34 and the 180sx which weren't really great lets be real, thats why I didn't add them in the JDM legacy even though they are JDM's. So if I were to continue the NFS car pack, I'll have to remaster those 2 cars (excluding BMW M3 as that was the car where things started getting better).
2. … do you play GranTurismo?
Unfortunately, I can't afford to download the game as it's quite big and I don't have WI-FI. I do watch alot of Youtubers play GranTurismo though so that's how I get to know about the game.
3. … will you make a European/American car pack?
Yes, all the previous European cars will be in one pack (like the JDM Legacy pack). My plan is to reach atleast 7 European and American cars before making it into a pack.
Installation
Confused about the download links?
So basically,
Win10 = High speed version, suitable for race track maps. (Minecraft speed of 0.65)
Mobile = Lowered speed version, suitable for small city maps. Also better for mobile users (lag reduction, easier to control) (Minecraft speed of 0.5)
BP + RP = Contains both behavior and resource packs.
DOWNLOAD:
TAGS :
---