MC:
Hardcore ChickenBlock
Category:
Minecraft PE Maps
Viewed:
114 -
Published at:
10 months ago
Description:
This is a map all about breeding chickens on a void world, the chickens lay various resources for you to progress, contains a chicken boss.
But beware this map isn't for the casual minecraft player, it's designed to be hard!
(Experimental gameplay must be active)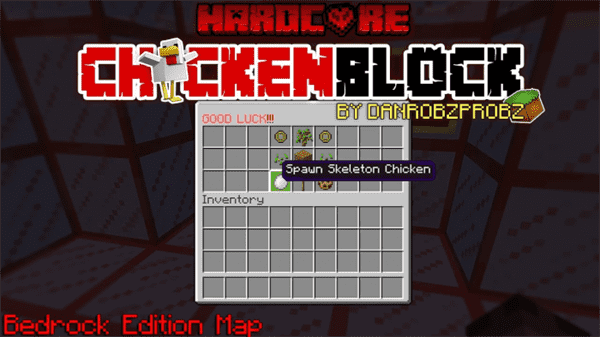 You spawn in a glass egg, with nothing except a few things & a couple of custom chickens(dirt,skeleton).
You need to progress with just that, its a super fun & grindy style of map.
Plus there is way over 55+ chickens for you to breed & collect!
Plus, like I said before a chicken boss, which is super tough, also there are machines in the little chicken trader shop for you to buy, which will also help you on your way!
The nether/end are possible too, lastly in the map I've made a full breeding guide book for help.
Happy breeding & collecting.
Good Luck!
Video Showcase
Installation
Once you have downloaded it, leave the settings as they are, but if for some unknown reason experimental gameplay isn't active, please activate it.
Thanks very much,
DanRobzProbz
DOWNLOAD:
TAGS :
---