Description:
This add-on will turn water into acid which will hurt both players and mobs in-game. Any time that it rains, you better find some place quick to get cover as you will get hurt any time that the acid rain hits you. Same goes with water, you will no longer be able to swim as it will be acid lakes!
Try to survive in a world where water has become acid!
Subscribe to me and YouTube: MadGamer HD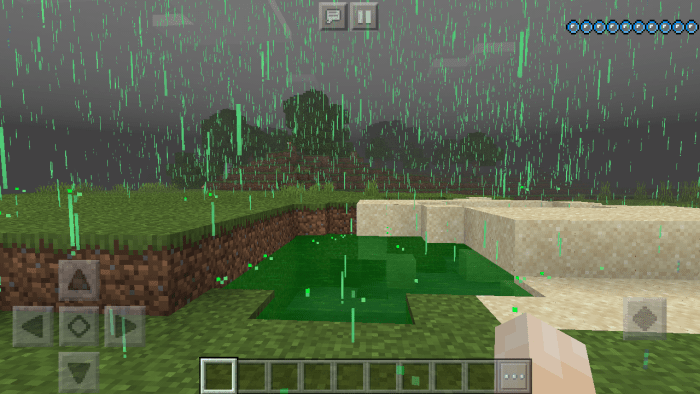 Entities that get hurt from the acid rain / water.
Bat
Blaze
Cavespider
Chicken
Cow
Creeper
Dolphin
Donkey
Drowned
Elder_Guardian
Ender_dragon
Enderman
Endermite
evocation_illager
Fish
Ghast
Guardian
Horse
Husk
irongolem
Llama
magmacube
Mooshroom
Mule
Ocelot
Parrot
Phantom
Pig
Players
PolarBear
Puffer fish
Rabbit
Salmon
Sheep
Shulker
Silverfish
skeleton_horse
skeleton
Slime
Snowgolem
Spider
Squid
Stray
Turtle
Vex
Villager
vindication_illager
Witch
wither_skeleton
Wither
Wolf
zombie_horse
zombie_pigman
zombie_villager
zombie
New Poisoned
Apple
Poisoned
Beetroot
Poisoned
Carrott
Poisoned
Carrott olden
Poisoned
Golden Apple
Poisoned
Beetroot Soup
Poisoned
Cookie
Poisoned
Clownfish
Poisoned
Cookedfish
Poisoned
Pumpkin Pie
Poisoned
Melon
Poisoned
Potato
Poisoned
PotatoBaked
Poisoned
Foods That Don't Hurt You
CookedBeef
Not Poisoned
RawBeef
Not Poisoned
Bread
Not Poisoned
CookedChicken
Not Poisoned
RawChicken
Not Poisoned
CookedMutton
Not Poisoned
Rabitstew
Not Poisoned
CookedRabbit
Not Poisoned
Installation
Tap the add on to install the mod or change it to a .zip to extract it
DOWNLOAD:
TAGS :
---